If you are a beginner purchasing any art tools or materials can be a very challenging task. There are so many good items on offer that it makes it harder deciding what will be perfect for you.
Easel shopping is as difficult as anything else. There are so many different ones with different purpose so you really need to prepare before you invest in one since they can be really pricey. 
If you are one of those painters that love working outdoors but you also need a studio easel, you might consider purchasing a sketch box easel. Those are very convenient to carry, have a storage space for your paints and tools and can carry decent sized painting surfaces.
One of the World leaders in easel manufacturing, and also my favourite is Mabef. So I decided to tell you more about their amazing sketch box easel M/23.
I will give you the basic spec, tell you what it is good for and if you can see something that you need there than this is a perfect easel for you.
Basic Features
Small

Made in Italy of oiled, stain-resistant, top quality beech wood

Can accommodate canvases up to 33.5″

Height: up to 73″

Weight: 11 lbs

Maximum Load Capacity: 17.5 lbs

Canvas holder can be adjusted to many angles from vertical to horizontal

Folding palette that is used as a drawer cover

Four compartment, tin lined sliding tool drawer

Adjustable leather shoulder straps for backpacking
Mabef
Mabef is a family founded Italian company that is in manufacturing top quality wooden easels since 1948.
All Mabef easels are made of top quality beech wood with an oil finish for staining protection and have a lifetime guaranty, which speaks a lot about the quality. 
Mabef Artist Sketch Box Easel M/23
Mabef M/23 is a three-legged sketch box easel made of top quality, oiled beech wood. This is a perfect easel for painting plain air or for those painters that have to travel a lot.
This is a small easel that can carry smaller painting surfaces that are only up to 17.5lbs in weight and 33.5″ in height.
It can be used as an outdoor and indoor easel if you do not mind painting on smaller surfaces. M/23 is suitable for various painting and drawing techniques such as oil, acrylics, watercolors, pastel… 
It has a padded leather handle and padded leather shoulder straps so you can carry it as a suitcase or as a backpack.
This is a very stable and sturdy top quality little easel that is perfect for students and beginners, as well as for all those painters that work on smaller pieces and do not have designated studio space.
Once folded, the easel is very small and it can be stored out of the way very easily, for example under the bed or in the closet. The dimensions of the easel when folded are 12″ x 6,25″ x 22″.
Mabef artist sketch box easel M/23 has a nice spacious tool drawer that is tin-lined so the inside of the drawer is protected in case something spills in it or your paints leak out.
There is a foldable palette that is also used as a drawer cover. Both canvas holders are big enough to keep your painting surface securely in place without any risk of it flipping or moving at all while you are painting. 
It can be tilted in many angles and can also lay flat in case you need to work with more liquid paints. On the legs of the easel there is rubber to ensure that easel won't slide on smooth surfaces.
At Mabef they manufacture all the moving parts in a manner to ensure that the wood will not get damaged and top quality material is used for all the screws and wingnut and sliders so they won't get loose even after years of use. 
Simple assembly is required upon purchase, but there are detailed instructions and I am sure it won't take much of your time. I included a video on how to assemble it, just in case.
Price is a bit high but when you think of the lifetime guarantee, the quality and functionality you get with Mabef M/23 sketch box easel I am sure you will agree this is a great investment and it is worth every penny.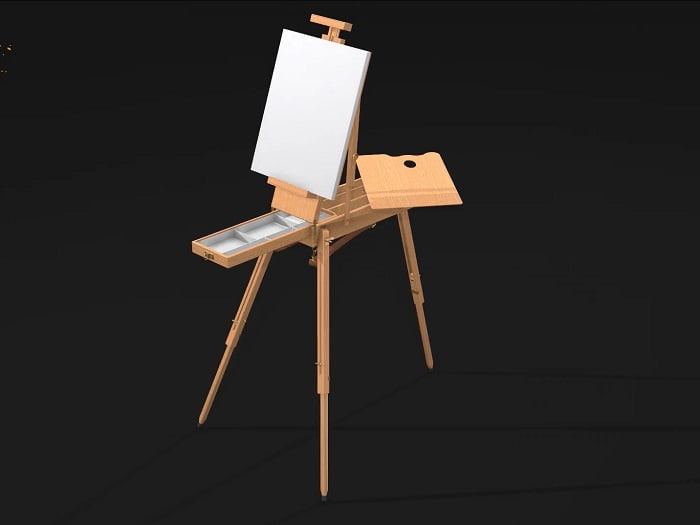 Conclusion
All in all, this is an excellent product. Mabef company is a worldwide leader in the production of wooden easels. Their products are of unparalleled quality and aesthetic properties.
Mabef company backs all of their products with a lifetime guarantee, which by itself speaks volumes about their quality.
M/23 sketch box easel is small, light and very compact. Suitable for many painting techniques since it can be tilted to any angle and can even lay flat.
Great for traveling painters or those of you with limited space that do not mind working on smaller painting surfaces.
It has a leather handle and two leather padded shoulder straps, so it is easy to carry it. Folds flat to a small size for easier storage.
Even tho it is small and light is is very stable and able to carry a painting surface of recommended size with no issues what so ever.
Price is a bit too high but if you think of the quality, I am sure you will realize it is worth it. If you have any questions or need any help concerning the subject, feel free to leave them in the comment section and I will be more than happy to help.