For centuries painters have used canvas as their painting surface because of its amazing qualities. Canvas is much lighter than wooden boards that were originally used for oil painting, which makes it portable.
You can have canvas in various sizes and shapes made of different kinds of fabric, which gives your painting surface versatile texture. And you can also take your canvas off of the stretcher bars for easier transport and stretch it again on a frame of the same size.
It can be really hard deciding which is the best stretched linen canvas for you since what you need depends on various factors such as the technique you use, type of paints and of course your budget.
I made a list that I hope will help you decide what is the best one for you, but first let me tell you a bit about all the different things you should look into when purchasing a stretched canvas.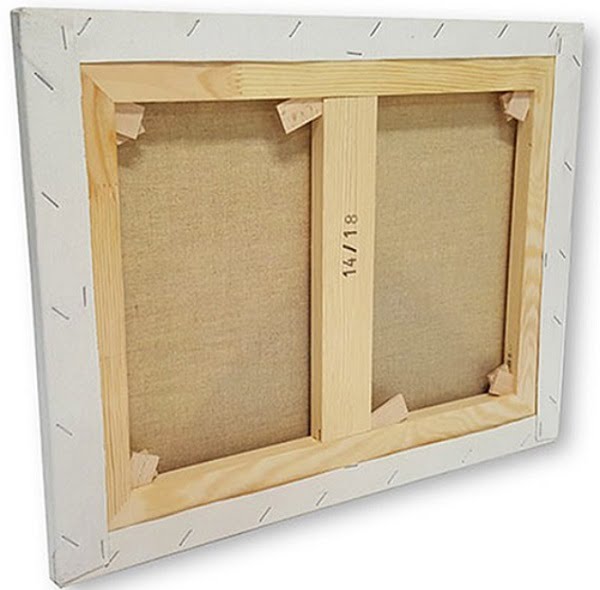 Things To Consider When Choosing What Canvas To Paint On
There are a few very important things you should pay attention to when you are purchasing a canvas for your painting.
First of all you need to know what you are going to use it for meaning what kind of paints do you plan using on it.
Not every canvas is good for every paint. Oil paints ask for a heavier canvas and better priming than acrylic paints.
For oil painting I would recommend linen canvas since its heavier and much stronger than cotton canvas and reacts better to moisture, so it does not sag over time if it is properly primed.
Alos, I would recommend that you buy already primed canvas at least at the beginning since it can be a bit overwhelming and time-consuming to prepare the canvas yourself.
There are excellent stretched canvases on the market at a reasonable price and if you feel like you need a bit more texture to your canvas, you can always add a layer or two of gesso.
So what is it that you need to pay attention to when you are purchasing a stretched canvas? First of all material which canvas is made of, texture and the way it is stretched.
The characteristics you require from your surface will determine which canvas you will choose. The material the canvas is made of, surface preparation, the texture of the surface will all in different combinations give you different results and will affect the final look of the painting.
Material
Two most commonly used materials for the production of canvas are cotton and linen. When it is primed well, cotton can be a good painting surface but linen canvas has a much better structure, gives you more texture, has better properties and lasts much longer than cotton canvas.
If my budget allows me, I always purchase linen canvas rather than cotton one and I would suggest that you do the same. Cotton takes in much more moisture and tends to sag over time so you need to re-stretch it this has never happened to me with linen canvas, no matter if i bought it already stretched or I stretched it myself.
Linen canvas is more expensive than cotton canvas since it is harder to process flex fibres and its inelasticity makes it harder to weave into fabric. It has great strength and gives you a fantastic surface to paint on.
Weave
Once you have chosen the material your canvas is made of you need to consider the weight and the texture of the weave.
Remember, the choice of the painting surface will affect how your painting will look when finished. Canvas is measured in grams per square meter or ounces per square yard. If the linen has heavy weight then it is a thick tough yarn and it is heavily woven.
Lightweight linen has an open weave and finer yarn it is easier to stretch and more responsive to tightening procedures.
The weight does not mean that the texture of the lighter linen is fine and of the heavier one is rough both can be rough or smooth.
Smooth surface, almost paper like is used for portraits or for detailed painting while painters mostly use rougher surface for more textured work.
As I said a canvas surface affects your painting greatly so it is important to know what kind of painting you want to do in order to choose the right canvas for you.
Weight
When it comes to the weight, more weight means that the canvas can take more pressure while being stretched without tearing.
Weight of the canvas is determined by thickness of the tread used to weave and how tightly its woven. So weight of the canvas is basically how much fabric there is per area.
A rough canvas can be loosely woven so it can be lighter than a fine canvas that is tightly woven, but usually a thick thread makes a heavy canvas and a thin thread makes a lighter canvas.
Now that you know what you should look for when you are purchasing a canvas let us tell you a few words about our favourites. 
We reviewed several different canvases that we consider are worth purchasing, starting with the best and the most expensive one down to the solid one for those of you with a smaller budget.
Comparison Table
Masterpiece Artist Canvas
Our Favourite
Canvas is pure Belgian linen, sized and single primed with oil primer

Stretcher bars are made of premium quality Ponderosa Pine wood

The canvas is very absorbent, and it is suitable only for oils and alkyds

Has pre-installed corner keys and keyable cross braces for additional support

Drum-tight stretch up to 50% tighter than other methods
Winsor & Newton Canvas
The canvas material is 100% Linen that is primed with highly pigmented gesso

The wood used for the stretcher bars is Pine

The weight of the canvas is 430gsm

Canvas bar shape – raised edge

Canvas profile depth – 0.82″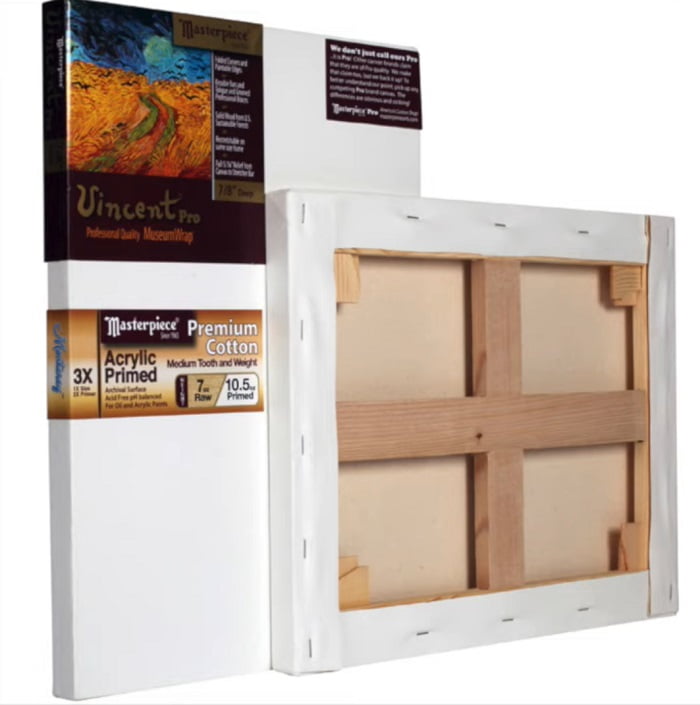 Masterpiece Artist Canvas
The Masterpiece company was founded in America in 1965. They are in production of top quality canvas and offer you primed and unprimed canvas with 10 canvas surfaces, 4 depths and nearly 300 standard sizes.
If you still can't find what you are looking for at Masterpiece, they can make it for you since they do custom work as well.
What makes their products unique is that they have several patents and what's more important, their products preform better for you and help you raise the value of your artwork.
Masterpiece Artist Canvas Vincent Pro 36 x 45 Vintage Oil Primed
Vincent Pro 36 x 45 is made of pure Belgium linen, which is naturally strong linen with a more uniform surface texture.
It is sized and single primed with oil primer. Vincent pro canvas is very absorbent, gives you excellent luminosity, and can only be used for oil and alkyd color painting.
Canvas depth is 7/8″ and canvas relief is 5/16″. The wood used for the stretcher bars is solid Ponderosa pine wood from the sustainable forests of Pacific Northwest.
Stretcher bars are 7/8″ in depth and 1-1/2″ wide. They have corner keys pre-installed so you can additionally stretch your canvas if you feel the need to do so.
For additional security and in order to prevent your canvas to bend or twist cross bars are added. Cross bars are very strong and they also have corner keys so you can additionally stretch your canvas even in the middle where it is most important.
The cross bars are solid 1/2″ x 3.25″. The method they use to stretch the canvas is Museum method, and the canvas is drum-tight stretched with balanced tension across the entire surface. This method ensures the tension of the canvas up to 50% tighter than any other method.
Canvas is stretched on the stretcher bars with corners folded on the back, not cut and there is enough of it left at the back so you can re-stretch it or just remove it for transport and stretch again on a frame of the same size.
The Masterpiece canvas is expensive, but you get a superior quality canvas that is worth it. This canvas is definitely something that I would not recommend to beginners or students it is a product made for professional artist to give them the perfect surface for creating masterpieces.
But, if your budget allows you, I say go for it, why not? If you can purchase the best for your artwork, always do. 
Masterpiece Artist canvas Vincent Pro is a premium quality product, and it is an excellent, extremely durable surface for your artwork.
It is very important for your art to use the best canvas that you can afford. Using a good quality canvas is an investment in your work.
What makes masterpiece canvases so good? First there is the canvas itself, only the best natural canvas is used, carefully selected and inspected.
A sizing is then applied to the canvas to create a barrier between the fabric and the primer, which is specifically designed to provide the ultimate surface on which your paints will join with the canvas.
The canvas is then mounted onto the frame which is made of top quality Ponderosa Pine wood. If the size of the canvas is larger than 16″ they apply a brace for additional support.
This canvas is professionally made to the smallest detail, and it is worth the money you pay for it. As I already said this is not the canvas for students or beginners since the price is so high but I would definitely recommend it to any artist that wants their work to last.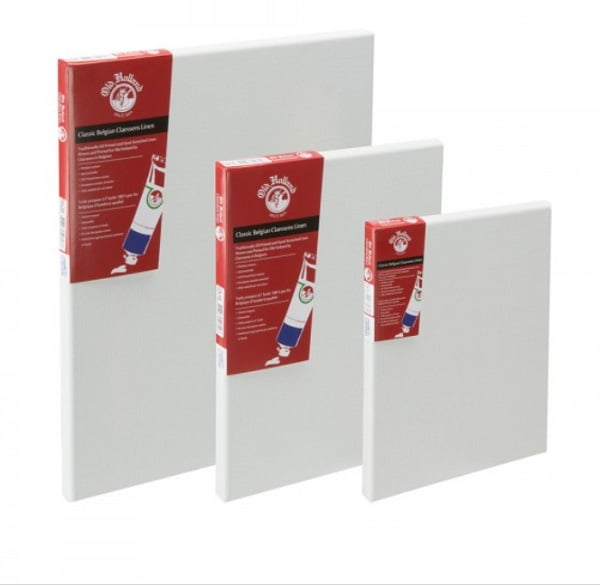 Old Holland Linen Canvas
Old Holland canvases are made of 100% Claessens Linen, crafted from woven natural flax from Belgium. The materials that are used for the production are carefully selected, sorted, and processed with the greatest care.
The Old Holland canvas is primed with two coats of oil primer and stretched around 13/16″ stretcher bars. The canvas is back stapled so you can paint on the sides in case you want to leave your painting without a frame and present it that way.
Techniques and methods used to prepare Old Holland canvas are from the time of old Flemish and Dutch Masters.
First the canvas is double sized and then primed with Zinc White bound in linseed oil. The primer is added with a knife. Then the primed canvas is left to dry naturally for three days.
Once the canvas is fully dry, it is sanded and a final coating based on Titanium White is applied with a knife and roller. Thi leaves a very fine and smooth surface to paint on.
If you prefer painting on a rougher surface, you can always add a layer or two of gesso on your canvas that will give texture to your painting.
One thing you have to have in mind when purchasing Old Holland's linen canvas is that it is suitable only for oil painting.
Price of Old Holland linen canvas is high, but this is a premium quality product that is worth it. I would say that it is perfect for professional artists, though if your budget allows it I would always recommend that you purchase it even if you are a beginner. When it comes to canvas, you should always buy the best that you can afford.
Old Holland linen canvas is the ideal surface for you to create your artwork on. It is perfectly stretched and prepared so your brush would effortlessly slide on it.
Each Old Holland canvas is tightly stretched to solid 13/16″ stretcher bars, and a cross bar is added for additional support to all the larger pieces.
It is stapled at the back so you can paint on the sides of the canvas in case you want to present your painting without a frame or in case you need to transport your painting you can just take it off the stretcher bars and stretch it again on a frame of appropriate size.
The linen used for Old Holland canvas is 100% Belgium linen that doesn't sag over time. It is double sized and double primed in order to provide you with a perfect surface for your artwork. It is expensive, but it is worth it.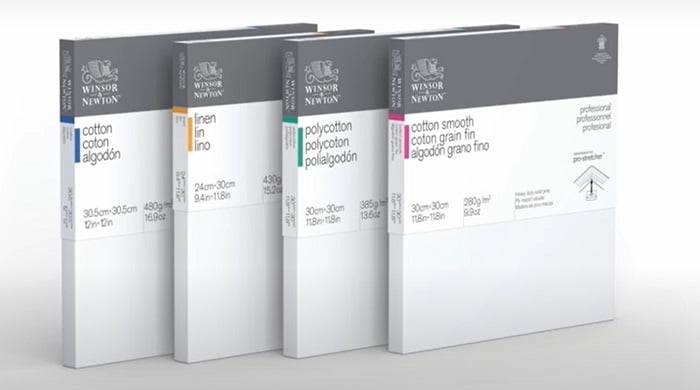 Winsor And Newton
Winsor and Newton is a British company with long tradition and experience in manufacturing art tools and materials.
Over the years, they perfected most of their products and are offering them to artists at a reasonable price.
Winsor and Newton offers you professional and classic canvas. Professional has Cotton Traditional, Linen Traditional and Cotton Deep Edge and classic has Cotton Traditional and Cotton Deep Edge.
 Winsor And Newton Professional Linen Canvas
Linen canvas was and always will be my preferred painting surface since I paint with oil colours. It is a bit expensive when you compare it to the cotton canvas, but it offers you better quality and durability and totally different experience.
At Winsor and Newton's you can purchase stretched linen canvas in a few various sizes 8″ x 10″,10″ x 10″, 9″ x 12″, 12″ x 12″, 11″ x 14″,12″ x 16″, 16″ x 20″, 18″ x 24″, 24″ x 30″, 24″ x 36″, 30″ x 40″ and 36″ x 36″.
As you can see, there is a lot to choose from. Their professional linen canvas is made of 100% linen cloth that is stretched by hand and back stapled with tailored corners.
The canvas is stretched on kiln-dried heavy duty, rigorously tested pine stretcher bars to ensure that there is no wrapping due to moisture.
With the canvas you get the Pro Stretcher devices for easier stretching in case you need to additionally stretch your canvas
Gesso primmer that was used is highly pigmented, and that ensures high coverage and color performance. It prevents sinking of oil color and improves adhesion.
The flax plant used for the production of Winsor And Newton Professional linen canvas is harvested in Western Europe. The warp and the weft threads weigh the same it means that the canvas is less prone to contraction or expansion due to moisture.
Winsor and Newton Linen canvas can be used with oil, acrylic and alkyd paints. Surface of linen canvas has a more natural look than one of the cotton canvas. Canvas is stapled to the frame on the back so you can paint on the sides of it as well in case you want to leave your painting unframed.
This is a good product that will not let you down. Canvas and the frame are both of decent quality and are a bargain for the price. You will have no issues with canvas getting loose due to moisture or the frame twisting.
Surface of the canvas is good and there are no grains or little knots which can be very annoying while you are painting.
This is a good buy for students and beginners as well as for professional artist.
Art Alternatives
Art Alternatives is an American company that is based in San Francisco Bay Area. It is a small creative group that is designing art supply essentials at low prices.
The company is founded in 2000 and it specializes in art surfaces. At Art Alternatives they manufacture over 350 sizes and styles of canvas and panels plus other creative tools and supplies.
Classic Linen Stretched Canvas
Art Alternatives linen canvas is made out of 100% Belgian linen. The linen used for the production of Art Alternatives canvas is medium weight.
It is lightly primed with acid-free, clear acrylic gesso. If you plan to use this canvas for oil painting though you should add another layer of gesso to it since it is not primed good enough for oil colors.
The canvas is primed with clear acrylic gesso so that the texture and color of a linen show through and can be incorporated into your artwork.
Wood used for stretcher bars is kiln-dried solid pine. The bars are 1-3/8″ deep and for larger canvas sizes additional support is added in form of cross bars.
The canvas is stapled on the back so you can paint on all sides in case you want to leave your painting unframed and present it like that.
Sometimes the canvas is a bit loosely stretched, but this can be sorted just by adding an additional layer of gesso.
Price is low compared to the quality you get if you purchase already stretched canvas from Art Alternatives so I can recommend it to beginners and students.
To summarize, this is a solid great for the price linen canvas that is suitable for students and beginners, but I would not recommend it to any serious artists.
Conclusion
No matter which canvas you choose always go for the best you can buy. Remember canvas is the base of your painting very big and very important part.
The quality of your canvas can greatly affect the quality of your painting and its longevity. 
If you have any questions and need any help concerning the subject, feel free to leave them in the comment section and I will try to help in any way I can.