Jack Richeson Best Classic Dulce Easel is an H-frame studio easel manufactured of oiled American Oak. This is a classic studio easel suitable for medium size painting surfaces.
Choosing a right easel for your work can be a challenge since there are so many on offer that are of different types, different quality and of course different price.
Things you need to consider when purchasing an easel are first what kind of technique you are planning to use mostly, what size of painting surface you will most often work on, and on course you need to consider the space you have for working.
Not everyone has designated studio space, some people need to use shared rooms in family homes or dorms, so foldabilty and storability are also a very important factor.
The Classic Dulce Easel is a quite basic H-frame studio easel, sturdy and stable as long as you stick to recommended loading capacity. It is of a good price for the quality you are getting tho there are a few minor issues that people who are using it have encountered.
In this detailed review we will go into all the details good and bad and we will try to help you to decide is this particular easel the one you might want to use but first let us give you the basic features.
Basic Features
H-Frame studio easel made of American oak wood
Square base with pre-drilled holes for casters, dimensions of the base are 22″ x 24″
Foldable for easier storage
Height of the easel is 90″ when fully stretched and 54″ when folded
Maximum painting surface height it can accommodate is 82″
Bottom holder has a tool tray and is not attached to the sliding mast
Suitable for oil, acrylic and casein
Simple assembly is required upon purchase
Jack Richeson & Co.
Jack Richeson & Co.is a family-owned company founded the 1980s' in America. Not only that this company is in the production of the finest artist materials and tools they are also a part of an amazing art gallery and art school.
All their products are carefully designed and produced to satisfy the needs of even the most demanding artists.
Best Classic Dulce Easel
Best Classic Dulce Easel is a classic H-frame easel that is suitable for oil painting, acrylic and casein. It is produced in America out of solid top quality American oak wood.
This easel is very sturdy and stable with its quad base with pre-drilled holes in case you want to add casters to it (they sell the casters separately, not included in the pack with the easel).
I personally do prefer my easel having casters since I enjoy working on larger pieces and it can be difficult adjusting your easel to catch that perfect light if you have to drag its heavy construction along with your painting surface mounted on it.
So, I would definitely recommend that you purchase the casters and put them on the base it will make your life easier.
Classic H-frame construction supports your canvas and big bottom canvas holder holds it safely in place so you do not have to worry that it will move even if you put a bit more energy into your painting.
Top canvas holder is big enough to secure the canvas and can be tightened so there is no movement of the painting surface at all. On the bottom canvas holder you have a tool tray that is attached to it and moves along the main mast together with it.
The tool tray is big enough for you to keep the brushes and some paint tubes at hand while working. All the moving parts are built in a manner to allow you easy adjustments while you are working, whether you prefer to work while standing or sitting.
Best Classic Dulce easel is foldable, so it is easy storing it out of the way when you are not working. Height of the easel when fully stretched is 90″ and it is 54″ when folded.
Maximum height of painting surface the easel can accommodate is 82″ and the maximum weight of the painting surface that it can hold is 40lbs. The base is 22″ x 24″.
Some simple assembly is required upon purchase, but it's almost fully assembled so that will not be an issue. The price is quite reasonable considering the quality of Best Classic Dulce easel and its durability.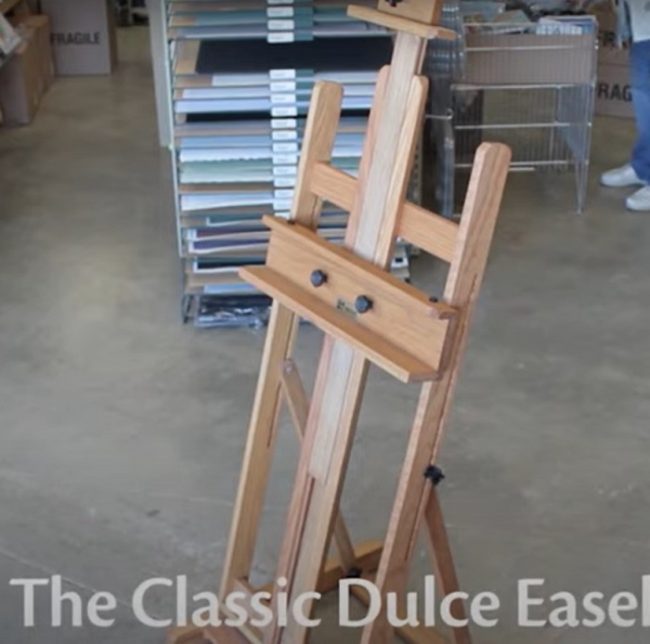 Conclusion
All in all, this is an excellent piece of painting equipment at a reasonable price for the quality you are getting.
Best Classic Dulce easel is a basic H-frame easel made of solid American Oak. It is very stable and sturdy and can easily and safely support the recommended size of the painting surface, and that is 40lbs of weight and up to 82″ in height.
The bottom canvas holder has a tool tray that is big enough for your tools and some paints, so you have them at hand while you are painting. 
It can be folded flat for easier storage when you are not painting, so it is space saving and can be used even by those of you that do not have designated studio space.
On the base of the easel there are no casters but there are pre-drilled holes so if you prefer casters you can easily add them.
The price is low for the quality you are getting with Jack Richeson Best Classic Dulce easel.
If you have any questions or need any help regarding the subject, you can leave them in the comment section and I will be more than happy to help.