One of the many important parts of oil colour paintings are the oil colours or the good choice of oil colours.
There is a huge variety of oil colours in price, quality and characteristics so it can be very hard creating a palette that you will use as a beginner.
White alone comes in so many types so it is really hard deciding what to purchase sometimes. It is the best to get familiar with most of the types of oil colours before purchasing any and creating a palette you'll use.
When purchasing your first oil colours you will notice a significant difference in the cost of different colours.
The main reason for that is the cost of the pigment used for creating the colours. The quality of the colours depends on the quality of the pigment.
I am sure you will be tempted to purchase the cheaper oil colour but personally, I would not recommend that. Although the colour seems to be the same as the colour of the more expensive one it will act much differently when mixed because of the pigments used.
Most of the manufacturers have oil colours in five or six different series with different prices depending on the quality of pigments used and the purity of the oil colours.
In order to get brighter and more permanent colour, you should use as few ingredients as possible. Cheaper colours are already a mixture of many elements because they are not made of pure pigments and binder. When mixed they tend to lose the brightness and purity of colour.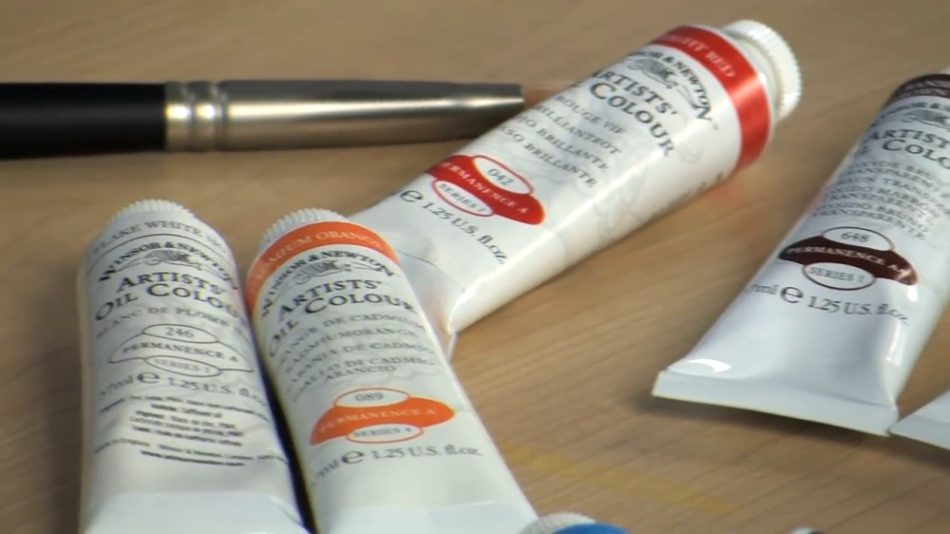 While you work with oil colours you will find what suits your needs the best and what colours you will use the most but you could use some advice for buying your first set of oil colours. My recommendation is to purchase a "student set" for the beginning just until you get the "feel" of oil colours. Later I would recommend purchasing artists' quality oil paints because they are made with natural pigments and maintain brightness and purity of colour much longer, making your paintings look much brighter for a long time.
You can purchase a set of student colours which normally contains all the basic colours you might need and just start with that. As I said in time you will see which colours you will prefer using but when just starting student colours will be good enough. There is no specific brand of colours you should use because there are so many good ones on the market if you pay attention to the details I mentioned earlier I am sure you will be satisfied with the colours you purchase.
Oil colour is a medium that allows you a lot of freedom in your work, so choosing the right set of oil colours is very important for the overall quality of your work. Few of the basic colours you should make sure are in your basic oil clour set are:
Titanium white
Cadmium yellow
Ochre yellow
Cadmium red
Ultramarine blue
Phtalo green
Burnt sienna
Alizarin crimson
Mars black
White is the colour you will use the most so you can purchase a big tube right away. Oil colours are very thick directly from the tube so they must be mixed with turpentine or odourless mineral spirits and linseed oil. For the first layers use only turpentine or odourless mineral spirits and make them thinner, for the second layer you need to ad linseed oil to the paint together with turpentine or odourless mineral spirits. I would recommend using odourless mineral spirits because unlike turpentine they produce no harsh fumes and have a very low odour.
Oil colours take a long time to fully dry especially if applied in thick layers so you have to make sure that after finishing your painting you keep it in a safe dust free environment where nothing will come in contact with the painted surface to smear the colours. Sometimes the drying period may vary from a month to up to a year and since the oil colour paintings should be varnished to preserve the brightness and ensure the durability of the painting you need to make sure the paint is fully dried before applying the varnish.
Purchase removable artist grade varnish and apply it on your fully dried painting using a large soft brush while the painting is placed horizontal position. Varnish becomes yellow over time it is not intended to be permanent so it needs to be removed with a varnish remover solution and reapplied, but this is something you need to do every 25 to 30 years.
You will also need a palette it usually comes with the set if you buy your colours in a set but if you choose to buy individual colours you can buy it separately or just use a piece of glass to mix the colours on, it can be a glass form some old frame with a piece of gray paper under it to make the colours look brighter and easier to mix, a palette knife for mixing the colours and a few clean old rags or paper towels. I use rags because they are much better than paper towels for cleaning brushes or paint from the canvas and that really just rags ones you can just throw away when they get too dirty, like old clothes or washable baby diapers.
Try to purchase the best oil colours you can afford because it is much easier starting with quality materials, it will make the process of learning much easier and you will be able to concentrate on creating art. You can't get it wrong really, it is all about experimenting and finding mediums that suit you, that make you feel good while using them. The most important part is not to give up and work. You might not create a masterpiece but still, you will be creating art and that is something really extraordinary.
I hope I managed to help you decide. If you have any questions just leave them below and I will be more than happy to answer.