Nowdays there are so many great products for creating art on the market and it can be very difficult deciding what is best for you to purchase and what will suit you the most of all the materials on offer. When it comes to oil colors first you have to decide what is it that you want to achieve with your art and what kind of art do you plan to create.
The best artist oil paints can be very expensive so if you are only a hobbyist or a student you might want to reconsider and go for student grade version of oil colors since that is the much cheaper option of oil paints.
Of course, since these are only student grade they are also of a lesser quality compared to the artist grade oil colors. Nevertheless, you can achieve good effects with these same as with artist grade ones so if you are still learning and don't plan to do "serious" art I would recommend you to purchase these. There are some very good ones on the market.
Artist Vs Student Colors
The difference between artist grade oil colors and student ones is in the quality and saturation of pigments used for producing them and in the oils used for binders in them.
Artist grade oil clolors are made from bright vibrant quality pigments and are very rich in pigments. Only pure pigments and binders are used in production. Oils used for binders in artist grade colors are linseed oil, safflower oil and walnut oil.
In my opinion, the best two oils to use as the base for the creation of a durable painting are Linseed oil and Walnut oil. Linseed oil is the industry standard. It creates the strongest film and drys relatively fast when compared to other oils. Walnut oil is a good alternative to linseed oil tho it does not dry as fast as Linseed oil nor creates as strong film it will yellow less over time and give the paint a nice brushable quality.
The best paint would be made from a mix of the two in order to get the best of both and reduce each other's negative qualities. Some manufacturers use poppy and safflower oils in their paints, particularly in lighter colours and whites because poppy and safflower oils yellow less than linseed oil in the short term. However, they are much slower drying and do not form as strong of a film.
Student grade colors have fewer pigments and are not as clean as artist grade ones, they have fillers such as chalk, wax, barium sulphate or aluminium hydrate to compensate for the lack of pigments and give them certain thickness. While this makes student grade paints cheaper, it can also have an effect on the color, which can sometimes come out less bright when mixed.
Also due to lack of pigments, you need to use larger amounts of paint in order to achieve similar effects you get using artist grade colors in the end student grade oil colors are not that cheaper than artist grade ones if you take into consideration all the facts said.
There are several features you should pay attention to when buying artist grade paints. First and the most important are the pigments. Quality of the pigments used for production and the saturation of them in the color actually defines the paint and its quality.
Another very important feature are the oils used as a binder for the pigments since all natural oils tend to yellow to a certain point in time which can significantly change the look of your painting.
Old Holland Classic Oil Colors
Old Hollands are one of my absolute favourites when it comes to oil colors they have all I need from a paint and are perfect for me in every imaginable way.
This is one of the oldest oil color manufacturer in the world, founded in Holland in the early 17th century in 1644 to be precise. Traditional methods are still used in the production of their colors under the supervision of artists.
Only the best purest pigments are used for Old Hollands oil colors and for the binder only the purest virgin cold-pressed sunbleached linseed oil.
Paints are created of pure pigments and binder with no fillers such as cheap chalk, wax, barium sulphate or aluminium hydrate are used. They have great covering power, strength and amazing intensity.
Great attention is paid to every little detail so even the tubes they use are made of the best materials. They are soft lead tubes with a thin layer of pewter, as opposed to an aluminium tube which oxidizes within 15 years lead tubes last a lifetime. Paint is too sticky since it consists of pure pigments and oil, unlike the industrially manufactured paints, so it can not be placed into tubes mechanically that is done by hand, one tube at the time.
Appearance
Colors are packed by hand in lead tubes and come in sizes of 18ml, 40ml, 60ml, 120ml and 125ml. On each tube, there is a hand-painted color sample followed by the name of the company and brand name, the corresponding color name and company logo.
You can purchase them individually or in sets. I would recommend you to first purchase their intro set which consists of 6x18ml tubes since the colors are extremely expensive and would be really a waste of money if you for some reason end up not liking them.
 In the year 1985 after extensive research and improvement such as replacement of traditional non-lightfast pigments with modern lightfast pigments with the same colour characteristics as the traditional one's Old Holland presented a range of 168 oil paints.
 In each color there is the highest possible concentration of pigments which makes them the oil colors with unprecedented color strength. The medium used for these oil paints is cold-pressed extra virgin linseed oil, giving them optimum drying period which increases durability and brushstroke spread. This is an oil paint of unequalled quality.
Performance
Pigments are pure making the colors nice and bright. Old Hollands have excellent lightfastness.
Due to the clarity of pigments and thickness of the paint, you can cover a really large surface with the smallest amounts of paint.
So even if they are a bit pricey,  they are still worth it because they last longer than other cheaper colors depending on the technique you use.
If you prefer more textured painting you might want to reconsider and buy more affordable oil colors. Compared to other colors in the same range these are not that different in quality for such a huge difference in price but then these are the colors that are used for the creation of many masterpieces. These are prestige in the world of art, the paints used by old Holland masters such as Rembrandt and Vermeer.
Blue Ridge Oil Colors
These are my absolute favourite amongst oil colors. They are a fairly new company and yet they managed to get to the top in oil color industry due to the quality of the products they produce and customer service they provide.
It is a small American company founded in 2007 by an artist who knows and fulfils the needs of today's artists.
Everything is done by hand from making the paint from carefully chosen top-quality pigments, filling the tubes, even the names of the colors are written by hand on the tubes. Blue Ridge colors are sold only online directly from the manufacturer. If you ever happen to have any issues with the paint, which I really doubt will happen, rest assured that people from Blue Ridge company will do all to resolve them as soon as possible.
They provide the best customer service I have ever seen. The company maintains a low number of employees thus cutting the cost which allows them to produce such good quality product at a very reasonable price still using top quality pigments.
Appearance
You can purchase the paint in 150ml and 40 ml tubes. On each tube, there is color marked on the top under that there is a company logo alongside with the name of the company followed by the handwritten name of the color.
The paints are sold only individually, there are no sets available and only online, you can not find them in any shops. There are 70 different colors available which is more than enough for creating a nice pallet using these alone.
Performance
Nice and creamy colour not to thick nor too thin with outstanding pigment saturation it is blended to a smooth, brushable consistency. Pigments are ground in alkali-refined linseed and walnut oil blend. The white paint is an exception since for it they use walnut safflower combination of oils.
I think this is the best combination of oils for oil colors since these two oils used together are creating a densely pigmented paint which offers the clarity and richness of color. Since most of the painters never create their pallet from one color brand alone you might wanna have in mind that Blue Ridge oil colors have a semi-matte finish when they dry so you might not want to use them along glossier brands.
Most of the colours are lightfastness I. The pigments that are chosen for the Blue Ridge paint are very beautiful tho there aren't many different colors on offer. I haven't found the better quality to price ratio in any other oil color brand. You get outstanding quality at a very reasonable price.
Williamsburg Handmade Oil Colors
Williamsburg Handmade Oil Colors are made in the mid-1980s' by an artist Carl Pansky who originally made them for himself and his friends.
Interest for his paints escalated in time and he decided to establish the"Williamsburg Art Supply" company. The colors are hand made with carefully chosen top quality pigments from all over the world.
After the death of the founder of the company Carl Pansky, the company merged with Golden Artist Colors and is now Golden and Williamsburg but they kept Carls legacy and are still producing the paint with materials and methods used by old masters.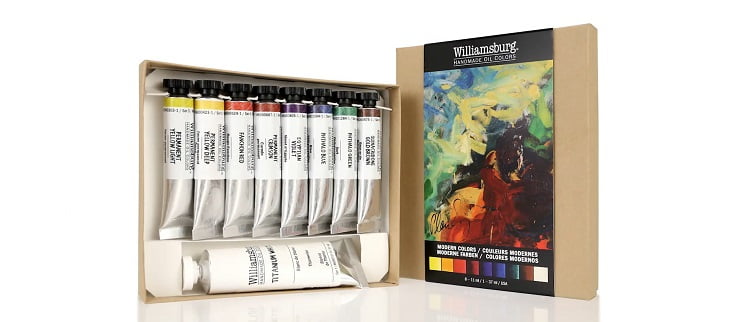 Appearance
 The tubes are made of non-reactive aluminium and come in 37ml and 150ml. On each tube, there is color marked at the top followed by the company and brand name and corresponding color name. There is an amazing range of 178 different colors each unique in its one way. Depending on the pigments used some colors are extremely smooth while others are slightly gritty.
The batches the colors are produced in are not larger than 5 gallons at a time which gives total control over the paint very much like 19th-century French colormakers. .Only top quality pigments from all over the world are used in the production of the paint and for the binder pure alkali-refined, ph balanced linseed oil is used. All the production materials are hand measured. 
 You can purchase the colors individually and in four sets of 8x11ml tubes with 37ml titanium white, two sets of 10x37ml tubes, set of 12x37ml tubes along with 150ml titanium white, set of 6x37ml tubes along with 150ml titanium white and a set of 6x37ml tubes of iridescent colors.
Performance
Williamsburg oil colors are very rich in most incredible pigments.The paint is creamy and excellent for texturing and blending. These are amongst the leaders in oil color industry.
Due to their thick texture, these colors are ideal for painters that want to see expressive brushstrokes on their paintings. Lightfastness is good in most of the colors which makes them ideal for creating museum worth long-lasting artwork.
The price is a bit high but that is because all the materials used for the production are top quality and very expensive. As always I suggest you go small and buy a few tubes of color just to see if these are what you are looking for in oil colors. You definitely wont make a mistake if you decide to invest in these since their quality is superb.
Winsor And Newton Artists Oil Colour
Winsor and Newton is a solid and reliable brand of oil colors. Nothing spectacular about them but still I would say the quality is good. 
Produced in British company founded in the early 19th century with long tradition and experience by supervision of artist this is a product you can rely on.
I would say this is the best brand of oil colors for beginners and students because it offers good quality at a low price.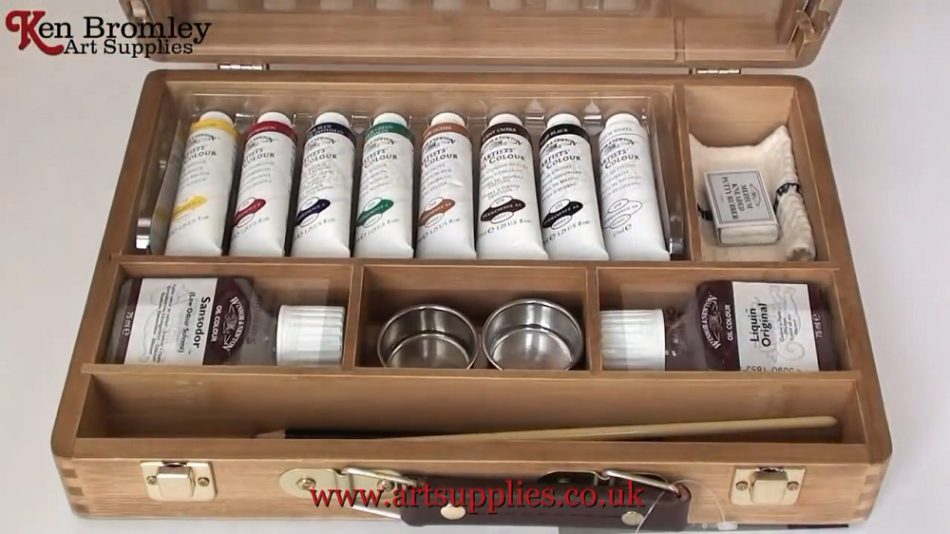 Appearance
The tubes are white and on them, you can see color marked and the color name written at the top, company logo and the name along with the specific brand name followed by the name of the colour and lightfastness rating.
There are 115 different colors in the artists' range. You can purchase the paints individually in 37ml and 200ml tubes.
There is also an introductory set made of 10X21ml tubes and a set of 8X37ml tubes of paint placed in a nice bamboo case with a few brushes and oil color mediums.
Basically there you get all you need for your first painting. And the price is very reasonable so these are definitely my recommendation for those of you who never used oil colors before.
Performance
The paint texture is very buttery, pigments are strong, bright and vibrant with excellent lightfastness.Color consistency is good and each tone is carefully formulated for stability, tinning strength and coverage. 
Winsor and Newton Artists oil colors can be used directly out of the tube thickly with a palette knife or mixed with linseed oil, turpentine or odourless mineral spirits to be used with brushes and thinned to a fine film, depending on what effect you want to achieve.
What is really nice with these colors is that they are in almost every art shop so they are easily accessible which is great if you ever run out of a certain color while working because you don't have to wait for your order to arrive.
This is one more reason why I would recommend them to beginner artist. There is also a price which is very "in the budget" for and artist grade oil color of that quality. 
If you decide to try Winsor And Newton artists oils go for the introductory set first, see how they feel when you're you can always easily add to it any color out of their amazing 115 different ones on offer. 
Gamblin Artists Oil Colors
Another solid brand of artist grade oil colors. What I would point out as the best in Gamblin artists oil colors is the fact that the company shows so much commitment to the health and safety of the customers which makes them a good choice for artists with health conditions.
There is no lead in their white and Naples Yellow oil colors, and they also have a line of solvent-free mediums based on safflower oil and soy alkyd resin instead of mineral spirits. 
The company is founded in the 1980s' in Portland,  by artists for artists. Both the owner Robert Gamblin and his wife, Catherine Kumlin, are painters.
This is a budget friendly artist grade oil color. It is good enough for professional use and excellent for students since the prices are low for artist grade paint and the quality is good.
Appearance
Tubes are white with color marked on the top followed by the name of the color, company and brand name and the signature of the creator of the colors Robert Gamblin. They come in two sizes 37ml tubes and 150ml tubes. There are 98 different colors available and there is also an Introductory set containing nine 37ml tubes of all the essential colors.
There is no lightfastness rating marked on the tube but there are charts available so that's not a big problem.
Performance
As I said this is very affordable artist grade oil color and also great for its non-toxic properties but, in my opinion, it is not thick and creamy enough and since I like more textured work on my paintings.
Pigments are nice and bright and tho there is not a good enough choice of colors you can always use them along Winsor and Newton which are in similar price and quality range.
Refined linseed oil is used as a binder so color tends to yellow a bit over time but overall lightfastness of  Gamblin Artists Oil Colors is very good.
I would definitely recommend them for beginners and students because the quality is really good for the price they have and this is the least toxic oil color there is on the market.
Conclusion
 Nowadays there are so many good products you can choose from tho as you have seen most of the top quality artist grade colors are produced in the companies with a long history and tradition in a manner they used to be produced hundreds of years ago by old masters. Handmade oil colors still remain to be the best there is and no industrial color can ever replace them.
But with top quality comes top price so those are not just for everyone and not everyone can afford them. I did include very good quality oil colors that can be in the limits of anyones budget in this review and I hope I helped you with your decision. You can never know which oil color is just right for you until you try it and experiment with it.
It is all so subjective because what suits one painter might be completely wrong for the other one depending on the style and the technique of painting.
The main thing you need to know when purchasing oil color are the things listed above in the comparison table: pigments and binders used in the production, brushability, lightfastness and does the paint have a bit glossy or matte finish when dry.
if you have any questions and need any help whatsoever regarding the subject feel free to leave them in the comment section and I will be more than happy to answer them.