D'artisan shoppe is a family company that is producing high-quality art materials. They produce brushes made of natural and synthetic bristles for any medium and painting technique. Brushes they produce fit both professional artists and beginners.
The first set I am going to write about is Minute Series XII which is the set of twelve brushes made for detailed painting in oil, acrylics, watercolour, enamel, cel-vinyl or gouache. The set comes in a protective round plastic box for easier organizing and transporting your brushes and a dust bag is also included for additional protection.
Overall appearance
Inside the package, there are twelve brushes of which five are liners sizes 4/0, 3/0, 2/0, 0 and 1, five rounds in sizes 4/0, 3/0, 2/0, 0 and 1 and two flats sizes 0 and 1. All rounds have protective caps so they stay in pristine condition.
Handles are long ergonomically shaped for easier handling and less hand fatigue while painting. Made of the quality wood brown coloured handle is protected by seven layers of UV coated paint which prevents the colour to flake from the handle making it much easier to clean. On each handle, you can see size number, company name, the name of the series and the name of the specific brush shape written in elegant silver letters.
Best quality synthetic bristles are placed by hand into double crimped aluminium ferrules which ensure no loose hairs or separating from the handle after prolonged use of the brushes. Bristles mimic sable hair. Even after a long use, bristles maintain their shape, there is no loose hair and no hair falling off while you are painting.
This set of brushes contains every possible miniature painting brush you will ever need. The price of the set is more than reasonable and these are really worth what you pay for them. For me, these are a "must have" either you are a professional artist or a beginner.
The second set I really liked from this company is the Maestro series XV. This is the set of fifteen brushes of which four are made of natural hog bristles and eleven of synthetic bristles. In the set, you will find four flats, one fan brush, three round brushes, four filbert brushes, one angle brush, one rigger brush and one wide brush.
Overall appearance
I would recommend this as a beginner set because it contains all the basic shapes and sizes you might need and it is more than affordable. Brushes in the set can be used for oil colours, acrylics, watercolour and gouache paint.
The brushes come encased in a stylish carrier with magnetic snap locks for easy transportation and storage. Each brush is separately wrapped inside of the holder which gives them additional protection during transport. The carrier itself is lightweight made of quality materials and very elegant looking.
Handles of the brushes are made of light wood, perfectly balanced ideal for prolonged use. All the brushes have long handles which allow the artist to work away from the canvas. As on all D'artisan shoppe brushes, handles are protected by multiple layers of colour and varnished which makes the paint more durable and the handles easier to be cleaned.
Colour of the handles is black and on each brush, there is a logo of the company, name of the series, name of the type of the brush and the brush size number written in nice silver letters.
Brushes are artist grade so they are made by hand with carefully chosen materials. Bristles are placed in double crimped anodized aluminium ferrules. There are four hog bristle brushes of which one is a fan, two are flat and one is a wide brush suitable for large surfaces. Eleven synthetic brushes are made of top quality materials too. Due to quality craftsmanship, you will not have problems like hairs falling off or brushes losing their shape even after a long and heavy use of the brushes.
As I said this is a set of brushes I would recommend to beginners, for the price you pay you get a really good quality of the brushes. Professional artist tho might want a bit bigger range of variety in shapes and size of the brushes.
The third set of brushes are the ones I use the most since I mainly paint in oil colours, Master series VI.
These are hog bristle brushes which are one of the most favourite tools for painters who prefer working with oil colours. Hog bristle brushes can also be used in alkyd and acrylic painting. Hog bristles are stiff and can carry a large amount of paint and are very resistant and durable which makes them ideal for painters who are a bit more aggressive in their work process.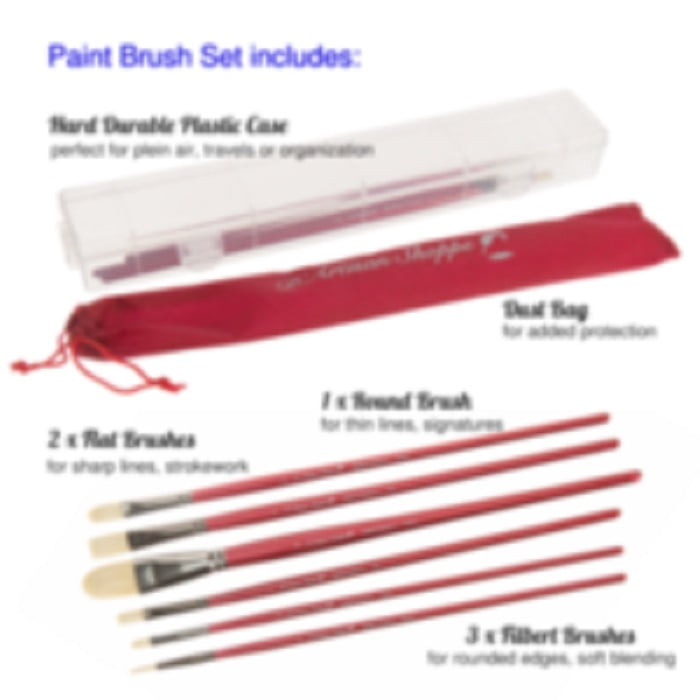 Overall appearance
D'artisan shoppe hog bristles brush set Master series VI comes nicely packed in durable protective organizer case and dust bag which is suitable for travelling and outdoor painting. Set contains six different sized and different shaped brushes. Filbert brush size two, six and twelve, flat brush size four and eight and small round size one.
These are artist grade brushes and that means that they are made of good quality materials by hand so the size of the brushes may vary a bit even in the same series. Bristles used for the brushes are the best quality Chinese Chunking hog bristles which are placed by hand into double crimped anodized aluminium ferrules. The company uses anodized aluminium because of its durability and resistance to environmental influence.
Also, nickel is known to cause allergies in 10 to 20 percent of the population. Prolonged contact with nickel made ferrules can cause the allergy to increase in time. Nickel is not durable and weather resistant as anodized aluminium and that makes it less suitable for outdoor painting. Even if it is plated well it is known that nickel plating wears off in time.
Anodized aluminium, on the other hand, is very resistant to chemical attack, is wear and scratch resistant and is corrosion resistant. Ferrules are very easy to clean and will never flake or peal because of the oxide coating.
Brushes have long red ergonomic handles with the name of the company, brush size number and name of the series written on them. Handles are long made of light birch wood which makes them ideal for painting form a distance from canvas with great ease. Painted in seven layers of UV coated paint which will never flake from the handle.
Handles are well balanced and very light, lighter than most of the brushes I used before. It may come off a bit unusual when you first start using them but in time you get used to it.
I have read some of the costumer's reviews about the brushes in which people are complaining about bristles changing shape in time and hair falling out. I must say that that didn't happen to me but that also has a lot to do with how you clean the brushes and take care of them.
It is very important to clean your brushes properly, that will significantly prolong their life. After cleaning them with mineral spirits or turpentine make sure to wash them thoroughly with mild soap and luke warm water and dry them good.
If you have any questions regarding the subject please leave them below and I will be more than happy to answer them.