Finding the right tools and materials for creating art can be very tiring and confusing at times since there are so many great products on the market nowadays. All of that can be especially overwhelming for a beginner artist. Same goes for watercolors.  It can be so hard deciding what are the best watercolors for you.
Watercolor painting is very satisfying and it is also one of the cheapest painting techniques. It is also an extremely old painting technique dating probably since the first cave paintings in palaeolithic age.
It came into art history like a continuous painting technique since the renaissance. Watercolors are made of pigments mixed with a water-soluble binder such as gum arabic. As the painting surface for watercolors paper is the most commonly used one and it is done with soft round brushes.
Nowadays there are so many great artist watercolors on the market so it is really not easy choosing the right one since the price is pretty similar and they are not that far of in quality as well.
What you should pay attention to when purchasing your first set of watercolors or creating your first watercolor palette is the quality of pigments used and the type of binder used for the production of the watercolors.
Sometimes it is even better deciding to buy a bit more expensive paints when you are just starting out since those tend to be much more predictable thus making it easier for you to control them while painting. And also most of the expensive watercolors are made of single or double pigments so they mix very well and in the end you need to buy just a few colors to create a good palette for yourself.
There are a few brands I found worth looking in to starting with top quality ones to those a bit cheaper for those of you that are looking for something more in budget just to try this technique out and see if watercolor painting is something that you might enjoy doing. 
I shall list them here for you starting from the brand that is, in my opinion, the best. 
1. Schmincke Horadam Aquarell Artist watercolors
2. M. Graham Artist watercolors
3. Winsor and Newton Professional watercolors
4. Daniel Smith watercolors
5. American Journey watercolors
Schmincke Horadam Aquarell Artist Watercolors
These are watercolors manufactured in Germany by a company with a century old tradition. The company was founded in 1881 and eleven years after the founding they perfected a line of artist watercolors. Till this day on they are considered the finest artist watercolors.
In the professional line of Horadam watercolors there are 139 different colors. Out of those 139 colors 112 have the highest possible lightfastness and are marked with 4 and 5 stars for it.
You can purchase Horadam artist watercolors in pans, half pans and 5ml and 15ml tubes. When it comes to the paints in tubes do not worry they are made by the same recipe as the ones in pans and half pans even tho it can seem to you that is not the case once you squeeze them out of the tube because the texture of paints in the tubes know to vary from very creamy, toothpaste like consistency to an almost liquid one they still settle nicely in pans and dry without cracking or shrinking.
Schminke Horadam Artist aquarelles rewet good, even after a long time on the palette you can resue your paints and they will be as bright and as pure as you just squeezed them out of the tube.
Schminke Horadam Aquarels mix very well since most of them are single or double pigment colors so the mixtures you get are very brilliant in color and very pure.
Appearance And Performance
At Schminke they offer you two different lines of watercolors and those are artist grade watercolors and student grade watercolors. Student watercolors are labelled as Akademie Aquarell and artist ones are labelled as Horadam Aquarell.
Student watercolors only come in full pans and half pans while artist watercolors you can purchase in full pans, half pans and in 5ml and 15ml tubes. You should be careful though when buying the colors since the packaging of student and artist full pans and half pans are almost exactly the same so you can easily make a mistake there.
Artist watercolors come in many sets and are sold separately as well so you can start with a smaller set just to test them and then add the colors you like in time.
The color selection is very large and diverse from opaque colors to very transparent ones, muted to bright and very saturated to very light there is enough there to choose for any painting style.
Some might compare these watercolors with Winsor and Newtons' professional line since they have the same delicate softness but they are really not that much alike. Haddam Aquarelles have much better flow and variance between opaque and translucent also they are much more granulated than Winsor and Newton paint.
One thing you should be careful about when it comes to Schminke Horadam watercolors is that they can very easily be too diluted in water. This paints are made with fine grind pigments and are richly colored and they dilute easily in water but it might happen that you dilute them too much just because of that and then it comes to blossoming and hard edges which can't be corrected once it's done
The pigments in Horadam Aquarells are finely milled and these paints are richly colored. The paints dilute easily in water maybe a bit too much so you have to be careful with that since it is easily over diluted which results in blossoming and hard edges that can't be fixed but stay visible on your painting.
I would say these are the paints for those of you that like precise, detailed work. Their choice of colors in the professional line is amazing and they are of top quality made to fulfil the needs of most demanding painters you just need to make sure that the detailed work suits you since as I said they are not behaving well when too diluted.
The price of Schminke Horadam can seem a bit high to some but if you take into consideration the quality of the pigments used and the way they are produced it is more than suitable and anyway price wise they are somewhere in the middle so not one of the most expensive but not cheap either.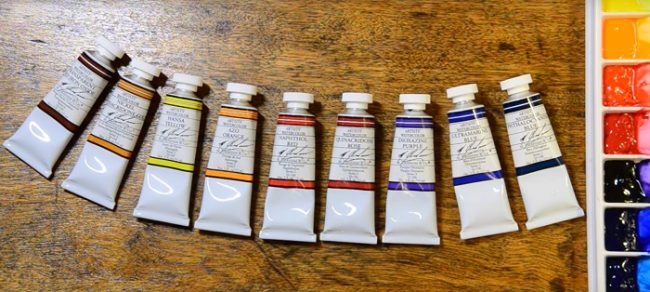 M. Graham Artists Watercolors
Twenty five years ago, two American artists, that shared the same passion for top quality art supplies founded the company M.Graham.
The founders graduated fine arts in the '70s when there were great concerns about the health effects of the toxins in paints and solvents so they tried to produce such paints that won't be harmful to painters who use them.
This might not seem like a big deal to many since we all know if we work in well vented space we will be just fine, but there are some that have to work in small closed studios or mums with little children that can not paint at all if the paints give out many bad fumes for those this might seem like a very big deal so having paints that are solvent free can be a very good thing for them.
Being environmentally minded the founders of M.Graham decided to create solvent free paints of high quality and excelent performance. They were the first modern day company that brought back the manufacturing of small batch handcrafted paint with natural bases of honey and walnut oil.
M.Grahams' professional watercolors come in 70 different colors. They are rich in pigments and the colors are very bright. The base used for the production of watercolors is Northwest blackberry honey with glycerine and gum arabic added to the mixture.
The result they managed to get with this particular mixture is very creamy and easy to mix with water paint with translucent blends and smooth washes.
Why Honey?
Honey was used in the production of paints centuries ago because of its natural properties. It is a natural preservative and it helps to prevent the colors in the tubes hardening. Also honey makes it easier for the colors to rewet even after a long time of not using them.
Basic Watercolor Set
There are many different sets of watercolors that you can purchase from M.Grahams' but I, as always, suggest you go with a small one just to see how suitable is this particular paint for you. You can also buy the colors separately so it is easy to create a nice palette once you have seen the performance of these paints.
The basic watercolor set is exactly what the name says – basic. There are 5 1/2 ounce tubes of paint in it and those are three primary colors one green and one brown. Fear not it is more than enough for the beginning since the colors blend so nicely and maintain their brightness and strength of pigments in mixtures.
Due to the honey base  with added glycerine and gum arabic the texture of paints is very creamy and easy to apply on the paper. The pIgment load is excelent and pigments are very bright and clear.
Even when you heavily dilute them M.Graham professional watercolors will maintain their brightness tho one thing I must warn you about since the paints are so heavily loaded with pigments they are staining a lot so it is almost impossible to lift them off the paper so better keep that in mind.
There is detailed information on the tubes considering lightfastnes and pigments and what you see on thee is what you get when you use the colors so it's very easy choosing the right paints to purchase. Overall lightfastness of M.Graham artist watercolors is very good.
The colors that come in this basic set are:
Permanent Alizarin Crimson

 

– Series 5
Lightfastness II
Vehicle: Gum Arabic
Conforms to ASTM D-4236
Pigment: Diketo Pyrrolopyrrol (PR 264)
Ultramarine Blue

 

– Series 3
Lightfastness I
Vehicle: Gum Arabic
Conforms to ASTM D-4236
Pigment: Silicate of Sodium & Aluminum with Sulphur (PB 29)
Azo Yellow (Aureolin)

 

– Series 2
Lightfastness I
Vehicle: Gum Arabic
Conforms to ASTM D-4236
Pigment: Benzimidazolone Yellow (PZY 151)
Sap Green

 

– Series 2
Lightfastness I
Vehicle: Gum Arabic
Conforms to ASTM D-4236
Pigment: Chlorinated Copper Phthalocyanine
Burnt Sienna

 

– Series I
Lightfastness I
Vehicle: Gum Arabic
Conforms to ASTM D-4236
Pigment: Calcined Natural Iron Oxide (PBr 7)
Performance
M.Graham professional water colors have a heavy pigment load and the colors are pure and bright. Because of the pigment load you need just a little bit of paint to get a good mixture.
Since honey, walnut oil and gum arabic are used for the base these paints have a very creamy consistency and mixing them to each other is easy.
Also, thanks to the base these colors maintain their properties even after a long period of being out in the open, for example on your palette. Paint rewets easily and it looks exactly the same as if it was freshly squeezed out of the tube.
Lightfastness on almost all M.Graham professional watercolors is rated very high. From very good to excellent which gives you a wide range of hues to choose from when you are creating your palette.
Since the tubes that paints are packed in are small it might seem to you that the price is too high but M.Graham watercolors are heavily pigmented with almost no fillers added so a little paint will last you for a long time.
Also, you can literally use all of the paint from the tube even if you squeeze out too much out of it on your palette and leave it to dry it is so easy to rewet these watercolors all it takes is a touch with a wet brush and they are as if you just squeezed them out.
If you are one of those painters that likes using your watercolors out of pans and half pans you might have a slight problem with these though.
It is not a general rule for their watercolor but it still happens so I feel obligated to mention it to you sometimes the paint poured into pans and half pans simply won't dry.
Some of the colors remain semi-dry whilst others are almost liquid. Of course this means that you can make a real mess if you try taking them for an outdoor painting session but then this does not have to be an issue if you simply take them in tubes.
Daniel Smith Artist Watercolors
Daniel Smith is an American company founded in 1976 and at first, it was in the production of printing inks. In time they became one of the most popular brands of watercolors in America.
What separates Daniel Smith artist watercolors from any others is not just their wast choice of colors is also the use of the pigments that no other company uses in the production of paints.
Their professional watercolor line consists of 240 beautiful colors in 15ml tubes of which some are unique and produced only by Daniel Smith.
Quinacridone Watercolors
They were the first to use the pigments originally used only in the automotive industry in the production of their watercolors. These are Quinacridone pigments. The paint produced with these pigments is extremely durable and lightfast.
PrimaTek Watercolors
The first color produced in Prima Tek watercolors back in 1998 was Lapis Lazuli Genuine. These colors are made from minerals and semi-precious minerals that are ground into pigments and gum arabic that is used as a binder.
Since the production of their first color they added a few more and those are Serpentine Genuine, Amethyst Genuine and Piemontite Genuine.
Cadmium Hues
Cadmium Hues Daniel Smith produces have the richness of color and density of cadmium colors but without any cadmium pigments in them. This colors are very clean in mixtures and have almost identical properties as low-soluble cadmium colors that they previously produced. They have excellent lightfastness and are semi transparent.
Luminescent Watercolors
Daniel Smiths' luminescent watercolors have very special optical powers giving objects you paint a sparkle or reflective glow.
Performance
Pigments in Daniel Smith watercolors are highly granulated and it can be a cahllenge to mix them. They do not behave very well in mixes so they are not good to be used by inexperienced artists.
Also if you are used to squeeze out your paints into pans and half pans these are not the best choice for you since some of the paints tend to shrink significantly and it is not very easy rewetting them. On the other hand, if you do not mind using them out of the tube this will not be an issue for you at all.
When it comes to lightfastness most of the colors have very good and good lightfastness but since the choice of colors is so huge it is to be expected that some are not that good. This should not worry you though since they have sample sets as well as color charts to help you when you are choosing the paints that suit you.
Overall Opinion
There is a wast choice of colors in Daniel Smith watercolors and I can see the appeal, especially that there are some colors no other company produces but this is definitely not a product I would recommend to beginners because it is too unpredictable in mixes.
Winsor And Newton
When it comes to Winsor and Newton products there is no need to say much. They are well known for their long tradition and quality when it comes to the production of art materials.
I can't say they are top of the rank but they are really good both for beginners and experienced artists and the price is lower than so we can say those are in budget professional watercolors.
Winsor and Newton is a British company founded back in 1832. in London by two one scientist and one artist.
Only three years later in 1835. they produced the first moist watercolors that were glycerine based and doing that they completely changed the history of outdoor painting.
Winsor and Newton is a British company founded in London in 1832 by scientist William Winsor and artist Henry Newton. In 1835 Winsor and Newton's company produced first moist watercolors. Those were glycerine based colors that changed the history of outdoor watercolor painting.
Winsor And Newton Professional Watercolors
Winsor and Newton offers amazing number of 109 professional watercolors. The colors are vibrant and made of the finest pigments. Their professional line is well known amongst painters by their brilliance and strength.
Eighty colors in the professional line are single pigment colors and WInsor and Newton has a special process of pigment dispersion that they use during manufacture to ensure great color transparency.
Winsor and Newton's professional watercolors are very permanent even 106 out of 109 colors are rated AA or A for permanence.
Performance
The pigment load in Winsor and Newtons' professional watercolors is so high and they can easily be compared with the best and much more expensive professional watercolors on the market. Paints are exactly the same as what is labelled on them so you can not make a mistake when purchasing them. They behave as expected when used wet on wet and give nice smooth washes.
The paint in tubes is not manufactured by the same formula as the paint in pans and half pans so you cant refill them once they are used up. Many of the painters can see this as an issue. Once the paint poured from the tubes drys it is almost impossible to rewet it and even if you manage to do so it is no longer bright and vibrant as it is when used from the tube or pans and half pans.
It happens that some of the colours poured from the tube dry so hard that they crack and after you rewet them all you manage to get is some gritty mass that is totally unusable for painting.
On the other hand, with the paint purchased in pans and half pans there are no issues so my advice to you would be to stick to those since these are really nice colors and they are worth a try.
If you are one of those painters that are used to use watercolor paint out of the tubes you might want to consider squeezing out just the right amount of paint from the tube that you will actually use so you do not waste it because as I said the paint from the tubes is not really usable after it is dried.
Professional watercolors are sold in tubes, pans, half pans individually and there are some very neat sets you can purchase for a very good price so if you decide to try them out I can recommend you a very convenient outdoor set they have a pocket-sized box set.
A pocket-sized field box set of Winsor And Newton Artists' Water Color
First of all, it does say pocket-size but do not think you can push it in your jeans pocket it is not that small tho it lays nicely in the pocket of a jacket.
It is perfect to carry for outdoor painting since you have all you might need for your painting session in it.
In this set, you will find 12 professional watercolors in half pans. Once you open it unfolds into palm kit with an opening for the thumb for more secure gripping.
In this little box next to the 12 half pans with colors you will find water pan that can be attached to the box, water bottle, foldable travel watercolor brush two mixing areas and a small sponge.
The paints in the set are very well selected and should be enough for you to mix any color you might need. Still, if that is not enough there is room to add additional two half pans which I anyway think is a good idea since the pans are slipping a bit from their places which can be really annoying and those additional two half pans will keep the rest securely in place.
Considering the brush that comes in the set it is of good quality but it is very small 1 or a 2 so you might need to add another brush as well. 
The sponge that is in there is probably put as a replacement for a bigger brush but I don't find that practical since it is not precise as a brush so you might want to use it only if you need to lift some paint from the paper.
There are two white mixing areas but you can as well use the water bottle as a mixing area since it already has a dent in it and it is also white.
The water pan is big enough to carry water for you to use while painting and it can be securely attached to the box so you do not have to worry about it flipping.
The colors that you get in the box are Burnt Sienna, French Ultramarine, Ivory Black, Permanent Alizarin Crimson, Raw Umber, Titanium White, Winsor Blue (Green Shade), Winsor Green (Yellow Shade), Winsor Lemon, Winsor Red, Winsor Yellow, and Yellow Ochre.
The price is not high for a set like this that is very practical to carry with you and also for the good quality of watercolors that you get in it. The packaging is also very neat so it can be a very nice present as well.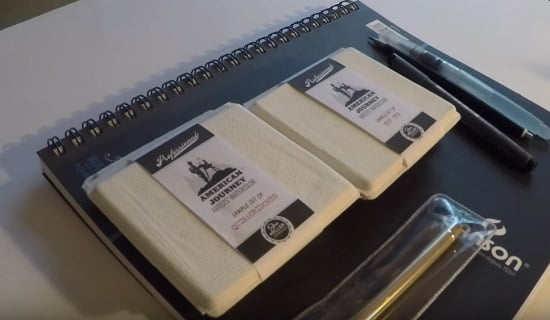 American Journey Artist Watercolors
Last but not least are American Journey artist watercolors. These paints can only be purchased through Cheap Joe's. They come in over 100 different colors. What is interesting about them is that they come in very large tubes of 37ml and also in 15ml and 8ml ones. Because of the size of the tubes, many can think that these are student grade watercolors which is not the case.
American Journey artist watercolors have a very specific consistency and properties and do not behave like many other watercolors. Once they are squeezed out of the tube you will notice that they are very thick and creamy almost toothpaste like.
The paints keep that consistency on the palette and on the paper as well, there is not a lot of movement or fluidity in these paints. This can be both good and bad depending on the way you paint. However, they dilute quite well with water when enough water is added so I don't see this as an issue with these paints. 
The paints rewet very well after they are dry if enough water is added and they maintain brightness and purity of color.
Just a few of the colors show granulation preoperties while all the rest dilute very nicely so they are very easy to controll which makes them ideal for students and beginners. They are also packed in big tubes and are very affordable.
Even so, I would not say American Journey artist watercolors are just for beginners and students their quality is good enough for professional painters as well. 
To Summarize
American Journey watercolors are  artist watercolors of good quality, made of finest pigments with a very creamy consistency and little to no granulation. They rewet well and the color remains to be bright even after it is fully dry on the paper. 
They are great for students and beginners but can also be used by professional artists. There are small sample packs that you can purchase and try them out to see if these are something you might like using. What I can say to you is that for this particular brand I haven't found any flaws.