When it comes to artist grade coloured pencils there are so many offers on the market which makes it so difficult to decide which one to choose for creating your art. Especially if you are a beginner vast majority of choice can be overwhelming.
Over time I have used many different brands of coloured pencils and found that there are a few that meet all my needs as an artist. I usually never work with just one brand of pencils because they all have to offer different things regarding your work so I tend to combine several sets in my artwork. Recently I came across Caran d'Ache Luminance 6901 coloured pencils and I must say that I was impressed.
Incredibly creamy and yet perfect for layering since they don't give any bloom whatsoever, strong vibrant pigments, best lightfastness ever and amazing colours for those of you that prefer doing portraits and drawings of animals. I can say these are one of the top three coloured pencils in the World that I would highly recommend to anyone to use whether you are a beginner or an experienced artist these coloured pencils have all you need and are able to fulfil anyone's expectations.
Appearance
Caran D'Ache Luminance 6901 coloured pencils come in sets of 16 coloured pencils, 38 coloured pencils and 76 coloured pencils in a tin, 20 coloured pencils, 40 coloured pencils and 76 coloured pencils in a box and also there is a set of 80 coloured pencils available in a wooden box set containing 76 colours and 4 that are repeating.
You can also purchase them open stock, meaning you can replace any colour you need. Which really comes in handy especially because all of us use certain colours more than others and they tend to run out much quicker.
Pencils are wax based, 3.8mm  lead is placed in the round highest quality Cedar Wood casing which is in plain wood colour. Some artists prefer hexagonal barrels tho i don't see this as a downside, they feel nice in hand and are really comfortable to use.
On each pencil, there is their colour name printed in silver letters on the wood casing in two languages, English and Swiss, along with a numerical code correlating to the corresponding colour for easier ordering if replacement is needed. 
There is also the Caran Dache Swiss made print along with the brand which is Luminance. Finally and perhaps most importantly is the Lightfast rating.
The bottom of each pencil is coloured with exactly the same colour which you get when you use the pencil so it is very easy finding the right colour which you need for your work and there is also the name of each colour written on the pencil.
Lead is wax based but it is not too soft, it is actually strong and resistant and you can sharpen it to the thin point whit such ease since the lead is placed in the top quality casing.
Also for those of you who are a bit more passionate while working this is a perfect choice of coloured pencils because even when a lot of pressure is applied the lead doesn't break.
What's wonderful about Caran d'Ache Luminance 6901 is that you can apply as many layers as you want without the fear of blooming it is also great for blending and you can use it with other pencils like Derwent which is also one of my favourites and that helps with the limited choice of colour since the biggest set they have contains 76 colours.
The colours they have are: White, SIlver Grey, Steel Grey, Black, Olive Yellow, Green Ochre, Orange, Yellow Ochre, Raw Sienna, Brown Ochre, Olive Brown, Apricot, Cassel Earth, Permanent Red, Russet, Burnt Sienna, Scarlet, Burnt Ochre, Ultramarine Pink, VIolet Grey, Light Aubergine, Manganese Violet, Violet, Violet Brown, Prussian Blue, Light Blue, Phtalocyanine Blue, Turquise Blue, Malachite Green, Light Malachite Green, Cobalt Green, Ice Blue, Berly Green, Grass Green, Moss Green,Lemon Yellow, Primrose, Purplish Red, Sepia, Spring Green, Slate Grey Graphite, Payne's Grey 30%, Payne's Grey 60 %, Payne's Grey, Raw Umber, Anthraquinoid Pink, Perylene Brown, Crimson Alizarin, Crimson Aubergine, Ultramarine VIolet, Middle Cobalt Blue, Light Cobalt Blue, Genuine Cobalt Blue, Dark English Green, Olive Brown 10%, Olive Brown 50%, Dark Sap Green, Grey Blue, Buff Titanium, French Grey 10%, French Gray 30%, French Grey, Bismuth Yellow, Golden Bismuth Yellow, Naples Ochre, Brown Ochre 10%, Brown Ochre 50%, Raw Umber 10%, Raw Umber 50%, Cornelian, Burnt Sienna 10%, Burnt Sienna 50%, Burnt Ochre 10%, Burnt Ochre 50 %, Sepia 10% and Sepia 50%.
Colour lays down nicely on the surface, they are good for covering large surfaces with ease and also since the pencils can be sharpened to a very thin point and are break resistant they are great for detailed work.
I didn't notice any flaking and you can go up to fifteen layers with no blooming at all. You can literally make your artwork threedimensional with Luminance coloured pencils.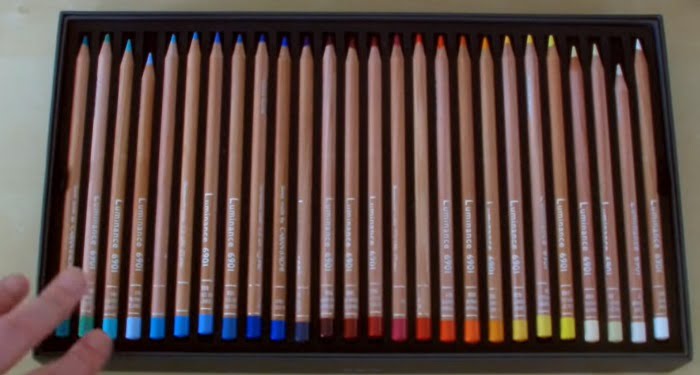 Overall opinion
After all of this has been said we come to the only downside of the Caran d'Ache Luminance 6901 coloured pencils and that is the price. These are the top quality artist grade coloured pencils and as anything that is good quality is expensive so are these. Yes, materials and supplies don't make you a better artist but sure do make your artwork much better.
We all want to make artwork that lasts whether we are selling it or doing it just for ourselves none of us like to see our artwork change in time and due to their lightfastness these colours are as long-lasting as oil colours so it is really worth it spending a little bit extra to get a lot in return.
At the end as far as artist grade coloured pencils go these are not more expensive than the others. I do always recommend buying the biggest set available but if you are unsure and not willing to pay as much go for smaller set first and build it up in time as they are available open stock too, that is if you find them good for your artwork. Remember it always must feel good working with certain materials for your art to be good.
Pros
Strong vibrant pigments
Break-resistant lead
Top quality Cedar wood casing
Excellent blending
No flaking or blooming even after multiple layers added
Extremely high resistance to light
This was my honest review based on my experience with Luminance coloured pencils. I would any time highly recommend them to everyone. If you have any questions regarding the subject feel free to leave them below and I will be more than happy to answer.