When it comes to artist materials and supplies it is always really difficult to decide which are the best for certain technique or which will suit your style of work the best even if you are an experienced artist let alone if you are just a beginner. Especially when it comes to professional colored pencils there is such a big offer of really good quality pencils on the market so it can be very difficult deciding which one to purchase.
What I always advise is to experiment of course but since some of the professional colored pencils can be really expensive a little heads up will be useful. I created a small comparison chart for you in order to help you as much as I can using my personal experience and experiences of other artists I know regarding the colored pencils we used over the years.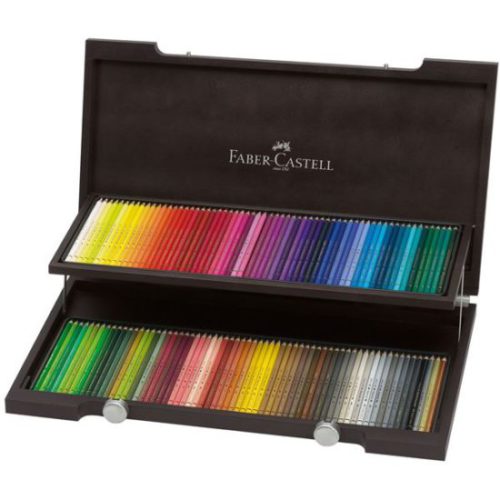 Faber Castell Color Pencils Polychromos
My absolute favourite and my definite number one are Faber Castells Polychromos colored pencils. These are the pencils that have all you will ever need in a colored pencil. I did try to find a flaw in these but believe me absolutely everything is perfect with them. From the design to the performance and durability these are the absolute leader on the market.
Polychromos are oil-based colored pencils that give a perfect layout of colour on the paper. Pigments used for producing these pencils are of an utmost quality which guarantees perfect bright colours and good resistance to light. Ideal for blending and layering so the possibilities are literary endless since their biggest set contains 120 different colours.
Appearance
The pencils are round, colored in the color matching the pigment used for the lead, so it's basically what you see you get when you use the pencil on the surface.  Lead is 3.8mm oil based protected with top quality California Cedar wood casing.
Tho the lead is oil based its break resistant so you can sharpen them to a very thin point and use for detailed drawing as perfect as you can use them for coloring large surfaces. The lead is also Acid-free, water resistant, smudge proof and environmentally friendly.
Polychromos come in several different sets,  6 pencils set, 12 pencils set, 24 pencils set, 36 pencils set, 60 pencils set and 120 pencils set. They come in a tin box, nice cardboard gift box and the biggest set you can purchase in an amazing wooden box.
Performance
Creamy oil-based lead gives an amazing output on the surface allowing you to color large surfaces with such ease. Ideal for blending and layering with almost no blooming or flaking even when many layers are applied. Bright strong pigments, excellent lightfastness, using these is a real delight.
Lead is specially strengthened to prevent breakage so you can sharpen them to a very thin point and use for detailed work also you don't have to worry if your style of drawing is a bit aggressive because even when a lot of pressure is applied the leads do not break.
These are premium quality colored pencils and with that, of course, comes a premium price which can be high for those who are just starting to draw with colored pencils. My advice as always is buy the biggest set you can afford it doesn't matter if it is not the biggest they have since you can buy each pencil open stock and also they blend so well so I am sure you will manage to create excellent drawings even with smaller sets. These colored pencils are definitely worth every penny.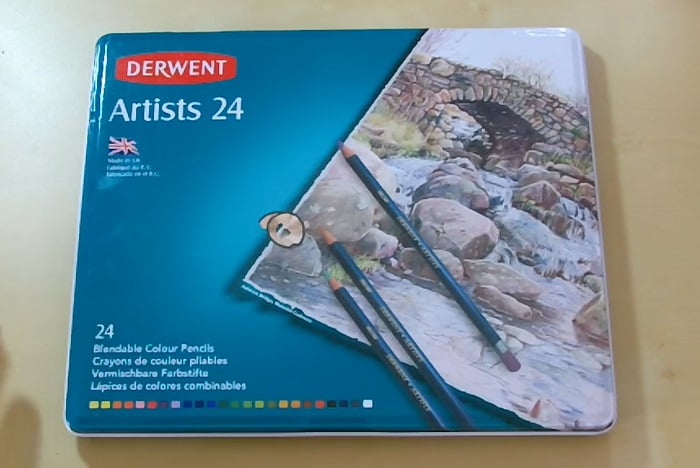 Derwent Artists Colored Pencils
Another leader in colored pencil industry. Derwent is at the same level as Faber Castell with its quality, performance and price.
Derwent Artists colored pencils are wax based pencils manufactured with care in a factory with tradition meaning that every single ingredient used for producing these is carefully chosen.
Appearance
Another round barrel pencil with wax-based lead 4mm wide placed in an 8mm quality cedar wood casing. Colour of the casings is racing car green. On each pencil, there is a corresponding colour on the bottom which is a perfect match to the color you get when you use the pencil on the paper. 
There is also  the name of the country in which the pencils are produced which is  England followed by the name of the company and brand name of the pencil, the name of the color and at the end the number which makes it really easy for you to find any individual pencil if you ever need to restock, written in gold letters on each pencil. They look really sturdy and really classy, you can tell these are made to last.
Pencils come in several different sets and also are sold individually which is great if you ever need to replace any of them and I am sure you will since each and every artist have his favourite colour or drawing technique which requires using one colour more than the other.
Sets available are 12 pencils set, 24 pencils set, 36 pencils set, 48 pencils set, 72 pencils set and 120 pencils set. The two sets one of 48 pencils and one of 120 pencils can be purchased in nice wooden boxes while others come in a tin box.
Performance
 These pencils are good for blending and layering so in addition to so many nice pigments you can always create more.  Wide wax lead helps you cover big surfaces easily but they are also break resistant and can be sharpened to a very thin point so are also good for detailed work on your drawings.
When it comes to layering there is very little blooming after several layers added tho they do happen to flake a bit while you are drawing, that is nothing that cant be overcome just need to use a clean dry brush to remove all the residue from time to time while you are drawing so you don't smear your drawing.
They have good light resistances so they are good to make art that will last for years to come.
When it comes to the price it is as with any high-quality mediums. All the pigments used for producing the pencils are top quality ones meaning they are expensive which make the pencils a bit expensive but in this case, it is really what you pay is what you get so you get your moneys worth.
Caran d'Ache Luminance 6901
We come to number three on my list. These are my number three not because of less quality than the other two but for limited choice in colours. These are the only colored pencils with extremely high lightfastness. Drawings made with Luminance are as long-lasting as oil colour paintings.
Appearance
This is a wax based colored pencil. The pencil case is a round barrel in plain wood colour made of best quality Cedar wood. Inside the case, there is a 3.8mm wide wax-based lead.
There is colour name printed in silver letters on the wood casing in two languages, English and Swiss, along with a numerical code correlating to the corresponding colour for easier ordering if you ever need the replacement for any of the pencils.
There is also the Caran Dache Swiss made print along with the brand which is Luminance printed on the pencil and perhaps most importantly there is finally the Lightfast rating. The bottom part of each pencil is coated in exactly the same color you will get when you use the pencil on the surface.
Pencils come in several different sets. There are 16 pencils set, 38 pencils set and 76 pencils set in a tin box, 20 pencils set, 40 pencils set and 76 pencils set in a box and the set of 80 pencils in a wooden box containing 76 colors and 4 repeating ones.
The big downside of Luminance is the lack of colors, there are only 76 different ones.
Performance
Pencils are wax based but the lead isn't soft at all they can still be sharpened to a very thin point and are ideal both for coloring big surfaces and drawing the smallest details on your drawings. What is so amazing about these apart from incredible lightfastness is the fact that you can apply them layer after layer and do not get any blooming what so ever. You can go up to fifteen layers of paint and still you will get the perfect finish.
They blend really well and I used them along with Derwent colored pencils so the fact that there are only 76 colors should not be the reason for you not to try using these.
The price is in the range of other best coloured pencils. They are expensive but they are worth it.
Arteza Professional Colored Pencils Review
Number four on my list is Arteza professional colored pencil. Relatively new  American company produces these and they became very competitive on the market in a very short time period. This is an artist-grade colored pencil which can easily compete with top artist grade pencils on the market with its quality, performance and durability.
Appearance
Wax based colored pencil with sturdy 4mm wax lead that is protected with 8mm round wooden barrel. Each pencil case is in the exact same color of the pigment in the lead also on each pencil there is a specific number for each color written in silver letters and the marking for the lightfastness shown in one, two and three stars.
One star means color resists fading up from 10 to 25 years, two stars mean up from 25  to 100 years and three stars mean colors are resistant to light up to 100 years and above.
They only come in two sets and are not sold open stock which is really bad since as we all know each artist has a couple of pencils that are most used and first ran out so in order to replace a few you have to buy a full set. Also sets available are 48 pencils set and 72 pencils set there are no smaller sets and not so many colors,
Performance
Sturdy 4mm wax based lead is break resistant. Pencils are great for layering but can also be sharpened to a very thin point which also makes them good for detailed drawing. Lead is nice and creamy and the pigments are bright. Lightfastness is excellent in most of the colors.
There is very little flaking or blooming even when multiple layers are applied whic makes them as good as many of the more expensive pencils on the market. Since the lead is extremely break resistant you can use them with a bit more pressure added which is good for those of you that are a bit more aggressive while working.
The price is very competitive for artist grade pencils which makes them very desirable. The biggest downside of these pencils is the lack of colors. The biggest set is only 72 pieces set. this is not that bad since they blend really well so you can easily achieve the desired effect.
But the inability to buy pencils open stock is a huge disadvantage. Even so due to quality to price ratio I would still recommend buying and trying these since they have a lot to offer. This is as I said a fairly new company I'm sure they will work on improving and start selling the pencils open stock, wish they also ad some smaller sets for sale. I would never go as far as to compare these to heavy hitters in the colored pencils industry but if you're just a beginner and are on a limited budget I would definitely recommend buying the biggest set they have. For the pencils in that price range, they are far most the best ones.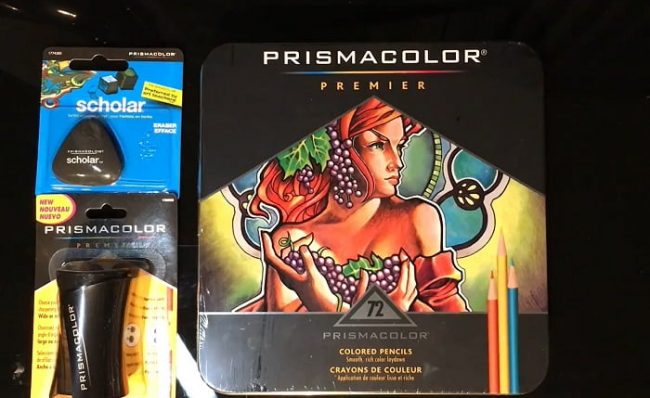 Prismacolor Premier Colored Pencils
We came to number fiive on my list and these pencils deserve it for several features they have. First of all, they made it here because the quality is great for the price you have to pay.
Wax based lead is silky smooth perfect for blending and layering layer after layer on your drawings. And for those of you that are just starting out, these are perfect because of their very affordable price.
Appearance
Another wax based colored pencil. Pencils are round with 3.8mm wide soft wax based lead. The color on the pencils is very similar to the color that you get when you use the pencil on the surface but I would not go so far as to say it is an exact match so it is better that you don't rely on that while you are drawing.
There is a full color name written on each pencil along with the corresponding number so that makes it easier to determine which pencil you need and which to buy when you need to replace any.
Pencils come in a tin box in several different sets. The tin box is ideal for protecting the pencils since the lead is really soft and easily breakable. Sets available are 12 pencils set, 24 pencils set, 36 pencils set, 48 pencils set, 72 pencils set, and an amazing 150 pencils set.
Performance
This is the creamiest pencil ever with nice bright pigments. It blends perfectly. and glides smoothly on many surfaces leaving a nice creamy trace. With these, if you experiment enough you can almost achieve an oil painting effect in your drawings. It is really a delight using these pencils and you do have so many possibilities to create amazing tones.
On the other hand, the lead is so brittle it breaks so lightly which can be frustrating especially for those of you that tend to be a tad more aggressive in their work. It can sometimes happen that you get the set with the leads already broken due to the transport. They also break so easily while you're drawing so they are not recommended for detailed drawing.
The only way to sharpen these is with a good electrical sharpener if you try to do it with a regular one or one that's not that sharp you might end up with half of the pencil in your hand. There is a solution to this problem you can try. Simply leave them standing in the sun for some time so the lead melts and binds inside the pencil a little bit better or heat them in the microwave.
They have very low resistance to light also so you need to add additional protection to your drawings to keep them unchanged as long as you can in a form of a fixative with UV protection.
The price is more than acceptable for artist grade pencils. I would go so far and say that they are really cheap for what they have to offer you.
For this particular brand, I would say the pros and cons are pretty much equal pros are: soft wax creamy lead with nice bright pigments, large variety of colors (up to 150), good for layering and blending leaving such a nice thick creamy trace and after all not that unimportant the price is really low for artist grade pencils.
Cons are not good lightfastness in a number of colors, lead breaks so easily which makes even sharpening these a challenge and due to such high breakage they lust much shorter than other artist grade pencils. These can be used only by those o you that are extemelly patient, if you can be gentle with them and implement all the measures i talked about these can help you produce many nice works of art but if you are more temperamental i woul not reccomend even trying these.