Mabef Studio Easel M/01 is manufactured in Italy by a company with long tradition and experience in manufacturing wooden easels.
For many years now, Mabef company has been a worldwide leader in the production of wooden easels. All of their easels are constructed of carefully selected top quality materials.
You will never make a mistake if you decide to invest in one of Mabefs' easels, no matter what purpose you need it for. In this detailed review we will tell you what M/01 studio easel is good for but first let us give you the basics specifics.
Product Details
Constructed of stain resistant beech wood, walnut lacquered
Electrically powered raising and tilting motion
Available with 110 v and 220 v motor
H-frame easel with extensible sliding mast
Indoor easel suitable for oil, acrylics, alkyd and pastels, ideal for restoration work
Weight of the easel is 97lbs
Maximum loading capacity is 88lbs
Maximum height is 153.5inch
Maximum canvas height is 92,5inch
Comes in three different versions – switch operated, foot pedal operated and foot pedal and remote control operated
Mabef
Mabef company is in the production of wooden easels for many years now. It was founded in Italy in 1948 and it has been improving and growing ever since.
Their products are of unparalleled quality, functionality and beauty, and all have a lifetime guarantee and that says a lot about the quality.
The easels manufactured at Mabef are sturdy, reliable and last you a lifetime.
Mabef Studio Easel M/01
Mabef M/01 is an H-frame studio easel with an electric motor for adjusting the tilt angle and the height of your painting surface. It is suitable for restoration work and various painting techniques such as oils, alkyd, acrylic, pastel…
It is made of top quality beech wood that is walnut lacquered. The easel is available with 110 v and 220 v motor and also in three different versions – switch operated, foot pedal operated and foot pedal and remote control operated.
M/01 easel is a bit heavy, but it has four castors for better mobility. You anyway need to have a dedicated studio space if you plan to purchase this easel since it is not that easy to store out of the way. 
The weight of the easel is 97lbs and its height is 153,5inch so it does take a lot of space. But the weight only makes it more stable and it can carry a canvas or other painting surface of a considerable size.
Maximum loading capacity of Mabef M/01 studio easel is 88lbs and maximum painting surface height is 92,5inch.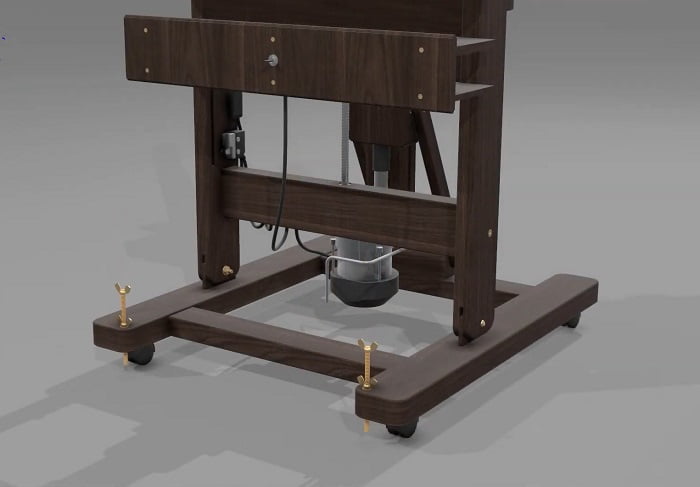 Appearance And Performance
Made out of solid walnut lacquered beech wood, Mabefs' M/01 studio easel gives out an extraordinary feel of stability and reliability.
The built-in electric motor both in 11 V and 220 V version makes adjusting your painting surface at the desired height and angle effortless.
Operating it is quite simple all it takes is a press of a button on the remote control, light push on the pedal or click of the switch to set your painting surface just as you want it. This makes it ideal for restoration work and work on large pieces.
M/01 studio easel is an H-frame easel with sliding main mast. On the front of the easel there is a large tool tray under the bottom canvas holder, and on both sides of the tool tray there are spacy drawers for any additional tools and materials you might need while painting. The drawers are 11 3/4″ x 4 3/8″ x 2″ which is big enough for several tubes of paint and solvents you might need while painting.
Base of the easel is square with four casters for better mobility since the easel is somewhat heavy and I can't imagine many of us being able to simply carry it around, and of course there are two safety screws with rubber bottom so you can nicely secure your easel from moving while you work.
Bottom canvas holder is large and can keep your canvas safely in place. All the moving parts of the easel are constructed in a manner so the wood doesn't get damaged in any way.
Also, all the screws and hinges and other metal parts are made of top quality materials and I can safely say that I don't think you will have the need to replace them in a lifetime.
Before purchasing this easel make sure you have enough room for it and that your ceilings are high enough so you can use its full potential.
What I am saying is that this is a big piece of painting equipment and it requires that you have a designated studio space since it is very hard storing it out of the way after work given its dimensions.
Upon purchase the M/01 studio easel comes to you almost fully assembled just simple assembly is required and I am sure this will be no problem but still I included the assembly video in this review just in case.
The price of this easel is high, and this is a serious tool built for professionals, but given the quality and functionality it is definitely something worth considering if you are one of those painters that enjoy working on larger pieces it will save you time and make your painting process so much easier.
Conclusion
Mabef studio easel M/01 is a large H-frame easel suitable for work on large pieces or restoration work. It is powered by an electric motor which helps you to adjust the height and the angle of your painting surface effortlessly.
This means that you can focus all of your energy on your work without having to think about moving your painting surface each time you need to make adjustments in height or the angle.
The Mabef's solid build means the easel will have no problem with the weight of your canvas and sturdy canvas holders will keep your work held in place at all times no matter how much energy you put into painting.
Four Wheels on the base of the easel help you move it around your work space easily and rubber stopper help you secure it on the spot so it doesn't slip or move while you are working.
Spacious tool tray with two drawers on each side gives you easy access to all the tools and materials you might need while working.
All in all, this is a sturdy reliable easel suitable for various painting techniques built to last you a life time.
I would recommend it to all the painters that like working on larger pieces and have a studio space, but this is definitely not something that I would recommend to beginners or hobbyists.
If you have any questions or need any help concerning the subject, feel free to leave them in the comment section.