When it comes to easels it is very difficult deciding what to purchase since there are so many different types of easels on offer. The main thing to decide is how and what for will you use your easel, once you know what you will use your easel for you will know what kind of easel you need for your work. 
If you are planning on working on a large canvas in a studio then Mabef studio easel  M05 is the right one for you.
Mabef studio easel with a crank M05 is an H-frame easel. H-frame easels are the largest easels with big carrying capacity. The easels are built in the form of the letter "H" that's where the name comes from. They can be single-masted or double masted for better stability depending on how big the capacity of the easel.
H-frame easels are sturdy and very stable. They usually have casters for better mobility since they can be heavy. This is a typical studio easel and is not suitable for those who do not have studio space or like working outdoors.
Along with H-frame easels, there are also A-frame easels, tabletop easels, multi-purpose easels. Traditionally easels were built of wood but nowadays they are also made of aluminium and steel.
Studio easels can be simple in design or very complex with winches multiple masts and casters. The best are those that are very adjustable so you can use one easel for many different techniques. Some studio easels are made to support panels 200 pounds in weight and over 7 feet high.
Mabef
Mabef is a company founded in 1948 in Italy. They produce high-quality wooden artist easels. Mariotto Albino and Bruno e Figi founded the company thus the name "Mabef" that is derived from their names.
Company is situated in Cardano al Campo, Italy and is one of the most respected easel manufacturers in the world.
Mabef easels are designed and constructed to suit different painting styles and to satisfy the needs of the most demanding artists. Easels produced at Mabef are of unparalleled quality, function and aesthetic qualities.
Mabef Studio Easel With Crank M05
Mabef M05 easel is made from oiled beechwood, it has a crank that lets you adjust the height of the working area, and allows you control over canvas elevation. 
This is an H-frame studio easel. The base of the easel measures 65 and 66 cm and there are four lockable casters on it.
On the front end under the mast, there is a storage area with two drawers you can pull to the side for the tools and materials you will use while painting such as tubes of paint, paintbrushes and all else you need.
The mast extends from 180 cm to 360 cm high and accommodates a canvas up to 215 cm or 84″ high. Assembly is required upon purchase but it is really simple if you follow the instructions you get with the easel.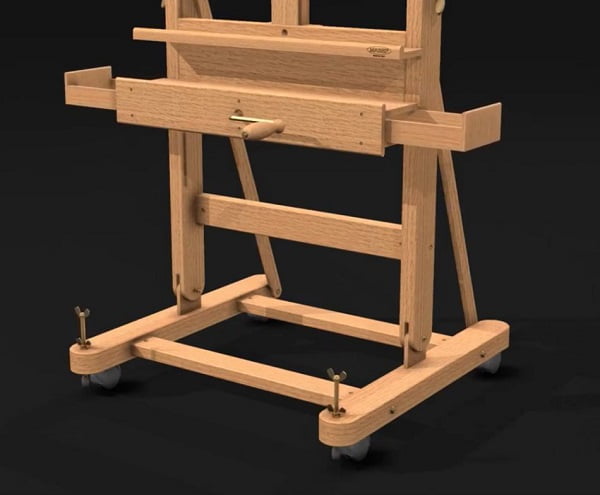 Performance
At Mabef they are very environmentally conscious which means all the wood they use in the production of their easels is taken from forests that have immediate reforestation and all is under control of the Italian Forestry Commission.
All the screws, springs and plates are placed in a manner to avoid friction on any moving parts. 
The wood used for Mabef M05 easel is uniform and consistent in grain beech wood which is naturally resistant to cracking and splintering and also the easel is impregnated with raw linseed oil which protects the finish.
Maintenance of M05 easel is very simple. All you need to do in order to preserve it is to remove any dried paint from it, wipe it with a damp cloth, then when it is fully dry apply a thin layer of raw linseed oil with a soft cloth.  
Mabef M05 studio easel is very sturdy and stable. It can carry a fairly large canvas and can be tilted to provide you with the best position of the canvas while you are painting.
Two drawers are big enough to store all the tools and materials you might need while you are painting and a crank helps you to elevate your canvas at any moment with such ease so you can use your easel standing up or sitting with no fear you will damage your painting while adjusting the height.
It is not foldable so storing it in the corner behind the door is not an option. For this kind of easel, you have to have dedicated studio space. Also, you might want to pay attention to the height of your ceiling if you want to use this easel to its fullest potential.
It has four casters which help you in moving it around your studio and they are lockable so you do not have to worry about the stability concerning that part. All in all, this is a really good medium sized studio easel for oil and acrylic painting. 
What I see as a flaw on this easel is that it can not be converted so it lays flat as Mabef M18 convertible studio easel can and is as twice as expensive. And being converted makes your easel usable for other techniques like watercolor painting and allows you to varnish your paintings much easier.
Pros
Sturdy and stable
Made of top quality beech wood
Has a crank for elevation on the front end under the mast
Has two storage drawers on the front end
Made to last for life
Cons
Very high price
Can only be used for techniques that do not include more liquid paint since it is not convertible
Specifications
Studio Easel with crank for adjusting the height
Can carry a canvas  up to 215 cm and 30 Kgs
Maximum height when the mast is fully extended is 360 cm or
Width of the easel is 60 cm
Two Storage drawers
Weight is 21.5 kilograms
Constructed of oiled stain-resistant Beechwood
Alternatives
Since Mabef M05 studio easel may come off a little bit pricey especially for the beginners there are a few very good alternatives for it that I can give you.
There is US Art Supply Malibu easel which is a good and sturdy in budget studio easel which is sturdy and easily adjustable in angle and height with storage space on the front end to provide you with easy access to your tools for creating. Malibu is convertible easel so it can lay flat to support your canvas if you are using some of the more liquid mediums.
Next to Malibu easel, there is Winsor and Newton Hamilton studio easel which is more suitable for you with limited space that can be folded and put aside when you are not painting.
Hamilton is good in budget easel. I would recommend it to beginners and students tho I don't see that it would be suitable for serious painters. It is not as sturdy and stable as one would expect from H-frame easel. It can also accommodate a bit smaller canvas of maximum height of 138 cm (52″).
And for those of you that want the top of the rank quality with more options, there is Mabef M18 convertible studio easel which is my absolute favourite. M18 can support  88″ canvas surface.
This is a convertible studio easel that can accept both vertically and horizontally positioned canvas. It has a sturdy base has four lockable wheels and a storage area below the mast for tools, brushes and paints. Mabef M18 is made for serious artists to last a lifetime.