Before purchasing the right artists studio easel for you it is important that you know what type of an easel you need and want. There are many different types of artists easels. There are A-frame, H-frame, Giant, Convertible, Single mast, Tabletop, Portable and Bench easels.
An easel is used to support the painting while the painter is working on it. Artists easels are usually made of wood, aluminium and steel. The design of the easels almost hasn't changed in centuries.
For studio work artists usually, use heavy sturdy easels which give them stability. Those are Giant easels and H-frame easels.
H -frame easels are shaped as letter "H" thus the name and are mainly used for studio painting. Most of them are really robust and unfoldable so you need a lot of room to store them, although there are some smaller models available for those who live in tight spaces that can still give stability.
If you have a studio where you can leave your easel up indefinitely, then an H-Frame easel is well worth the investment. They can handle bigger canvases than A-Frame easels so if you see yourself painting larege formats this is the right easel for you.
About the company
Mabef is an Italian company that has been producing high-quality wooden artist's easels since 1948.
The name for the company is taken from its founders' initials, Mariotto Albino and Bruno e Figi.
This family-owned company is probably the most highly respected easel manufacturer in the world. The company is situated in Cardano al Campo, Italy.
Considerable experience in the fine arts has allowed Mabef to perfect easels for different painting styles and satisfy the needs of the most demanding artists.  Mabefs' easels are of unparalleled function and aesthetic qualities.
 Mabef H-Frame M-18 Studio Easel
Sturdy, adjustable, reliable easel for those of you that work on big canvases. This easel is constructed using solid beech wood which is the best choice for an artist easel because it is a dense, yet light-weight, wood with a very high degree of consistency and uniformity. 
 There are no soft and hard grains in the same piece of beech wood your easel will not warp or splinter over time. If you care for it properly your easel will last a lifetime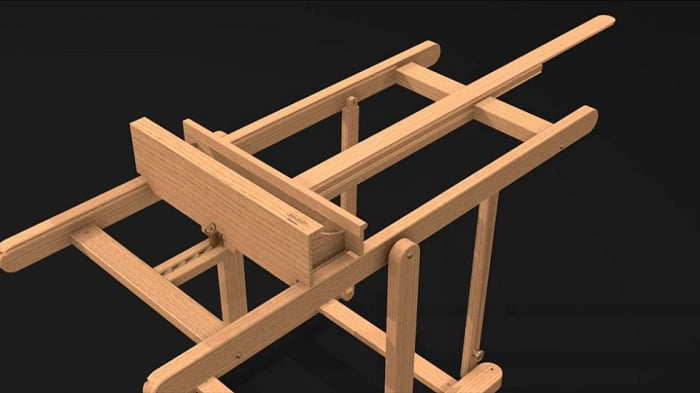 Performance And Design
 An artist easel should be quickly and easily adjusted with a minimal fluid effort, so you don't get distracted a lot while you're painting. Mabef easels use a simple ratchet or crank mechanisms to adjust canvas height.  Both these mechanisms are very easy to use.
Larger studio easels have locking casters and levelling bolts for mobility, but also stability as well. Everything including springs, screws and plates, is placed in a manner to avoid friction on any moving parts. The easel is protected with a finish of natural raw linseed oil.
The wood used for the production of Mabef easels is solid beech wood taken from forests where reforestation is immediate and under the control of local regulations guaranteed by the Italian Forestry Commission.
Mabef Convertible easel m-18 can support up to 88″ canvas surface, its convertible design allows you to set up your canvas either horizontally or vertically.  That means that you can use the easel for thick pain as well as for more watery one.
The adjustment mechanism allows you to get the perfect tilt while painting every time. Easel has a very large tray that provides more than enough space for putting all of your tools while painting. 
Made of oiled beechwood M-18t is not only more durable than other easels it also looks absolutely gorgeous. The easel is very heavy and tho that is what gives it the stability it is not very portable.
At Mabefs they dd manage to overcome this problem by adding four wheels on the easel which are lockable so you won't have any inconvenience while working and still can at least move the easel easily around your studio space. 
Because as I said earlier this is not an easel for those of you that don't have studio space since it is not that easily foldable and portable.
It's a professional grade easel for serious artists and the price matches its quality. Since the price is as high you should take good care of it properly in order to make it last you a lifetime.
 Beech wood is uniform and consistent in its grain, it is naturally resistant to cracking and splintering also the easel is impregnated with raw linseed oil to protect the finish.
All you need to do in order to preserve your easel is to simply remove any dried paint from it, wipe it with a warm damp cloth, then when it is fully dry apply a thin layer of raw linseed oil with a soft cloth.  
Pros
Top quality materials
Stability
Ideal for large canvas
Easily adjustable positions
Tool tray
Conclusion
Mabef M-18 Convertible Studio easel accepts both vertically and horizontally positioned canvases. You can lock it in any position between vertical and horizontal, allowing for angle selection based on your needs.
The sturdy base has four lockable wheels and a storage area below the canvas ledge for tools, brushes and paints. Made for serious artists to last a lifetime Mabef M-18 easel is one of the best easels that you can get. It is a bit pricey but with good quality always comes a bit higher price. I would recommend this easel to all of you that prefer working in the studio on large format canvas.
For those of you that are not ready to spend as much, there are cheaper but still good quality options such as US Art Supply Malibu H-frame easel and Winsor and Newton Hamilton studio easel.
If you have any questions regarding the subject you can leave them below in the comment section and I will be more than happy to answer them.