One of the very important tools for every painter is an easel. There are so many different types of easels so it can be difficult for a beginner to choose the one that will suit him the best. And since easels can be very expensive it is very important that first, you decide what kind of art you are planning to create and will you do your work mainly inside or outside.  Second, you need to know will you work on a very large canvas or not.
H-frame easel is one of the best types of easels that I can recommend for studio painting since it can support a large canvas and still is mobile enough. If you are a beginner you will be better of starting with some in budget easel. US Art supply easel Malibu is a sturdy and good quality easel that is not too expensive and can last you for years if you take good care of it.
H-frame easels also need a lot of space since they are not easily foldable and even if you do fold them they are still too big to be tucked away just like that behind the door or in the corner of the room. So if you do not have a studio space I would not recommend you to purchase this kind of easel. In case you do have a dedicated space for your art this will be an excellent choice for you.
These easels are very stable and sturdy, can support very large canvases and are usually adjustable so you can use them for more techniques than one.
Appearance
Malibu Extra large H-frame deluxe easel is handcrafted of seasoned beechwood and finished with a natural oil for additional protection and easier cleaning.
It is sturdy and easily adjustable in angle and height. It has a storage space on the front end to provide you with easy access to your tools for creating.
It can lay flat to support your canvas if you are using some of the more liquid mediums and is good for varnishing paintings.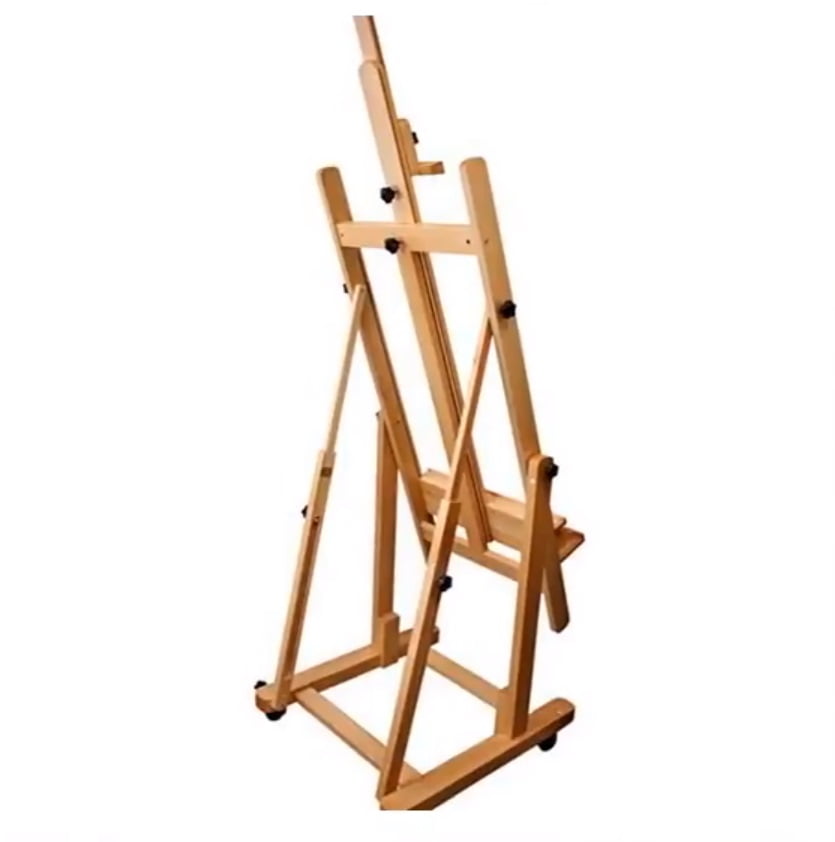 I do like the fact that it can lay flat because it is much easier varnishing like that than placing a painting on the table which is usually too small for the large formats I work on and it is really uncomfortable doing that on the floor.
It is also a great thing for the painters that work with watercolor. 
Malibu easel is in the category of in budget easels. It is good enough both for beginners and experienced artists but it is not what I would call the top of the rank. It is sturdy enough to support a large canvas and is stable enough but I do not see it lasting as long as some of the more expensive easels that are on offer like Mabef H-frame M18 which is in the same category but of much better quality.
For the price, this is a reliable enough easel and will serve you good for years to come if you treat it properly with some minor adjustments and changes along the way. It has 4 rolling casters which can be locked. That makes moving your easel around the studio much easier since it is a bit heavy.
It can support a canvas up to 83″ high.
Specifications
Definitely, H-frame easels are only for those with studio space. They are big and not so easy to store in a small space.
You should also consider the hight of the ceiling in your studio because they are very high when stretched so if the ceiling is not high enough you won't be able to use your easel to its full potential.
Malibu Studio Easel Size: 26″Wide x 27-1/2″Deep x 80″High, (Adjusts to 139″High).
It needs assembly when you get it but that part is really easy if you follow the instructions that come with your easel. Everything on it works very smoothly and you can adjust it to any angle you need to position your canvas. The tray on the front bottom end of the mast is big enough to hold all the tools you will need while painting.
If you want it to last you longer in the best condition you should clean it well after each painting and oil it. That will preserve the wood. This easel is great for beginners since its price is not too high. But its also good enough for professional painters because of what it has to offer.
Pros
Handcrafted of top quality beech wood
Easily adjustable
Sturdy and can support a large canvas
Not expensive
Casters give it full mobility
Cons
Not good for small spaces
Conclusion
Good, reliable, sturdy in budget easel. Suitable for all of you with studio space that like to work on large formats. Easily adjustable to suit all of your needs.  There are adjustments for height at the top bracket, at the rack, and at the back.
Also adjustable to lie flat and hold watercolor projects and any other liquid medium. With a handy tool tray on the front end big enough to hold all of your necessary tools.
This is an easel I would definitely recommend to beginners.And any of the painters with a limited budget. On the other hand, if you do not mind spending a bit extra I would recommend Mabef M18 which is an absolute champion when it comes to large studio easels. It is expensive but is a good investment and will last you a lifetime. If you want to read more about it and some other alternatives you can do so here.
If you have any questions regarding the subject you can leave them in the comment section and I will be more than happy to help.