Mont Marte tripod easel H.D. Beech is an A-frame easel. Tripod is the simplest form of an artist easel. It consists of three vertical posts joined at one end. A pivoting mechanism allows the central post to pivot away from the other two. On the other two non-pivoting posts there is a support bar for painting surfaces.
A-frame easels can be used for home or studio painting. They are usually a lot lighter than H-frame easels and easy to fold and store away when not in use so they are ideal for students, hobbyist and those painters that do not have dedicated studio space. Also, they are good for mobile parties since they are collapsible to a small size for easier carrying.
Mont Marte
Mont Marte is a fairly new company that produces art tools and supplies. It is located in Australia but their products can be found in over fifty countries all over the world. Their products are of good quality and yet affordable. So when you are with a limited budget and looking to buy art tools and supplies this is one of the companies I would recommend.
Mont Marte Tripod Easel H.D. Beech
Mont Marte Tripod easel is a classic A-frame easel handcrafted from high-quality beechwood. It is durable and light. Beechwood is the best choice of material for artist easels since it is consistent.
There are no soft and hard grains in a single piece of wood which means it will not twist or splinter in time. This easel is most suitable for students and beginners, easy to carry and store.
Appearance
Mont Marte tripod easel is made of lightweight beechwood with high-quality steel fittings. It can accommodate two canvases or other painting surfaces at the same time. On the front end, it has a tool tray that is big enough to hold your paints and brushes so you have them at hand while painting.
On the legs, there are rubber caps to ensure that the easel will not move or slide on any surface while you are working ( this is very important trust me, I have worked on the easel without it and it can be a proper nightmare when you are using it on a slippery surface such as tiles or wooden floor ).
On the side of the easel, there is a handle so you can easily carry it when it is folded. The dimensions of the easel when it is folded are 37 x 6.5 x 4. It weighs about 7 pounds. When fully assembled it is up to 89″ tall, width is 31 1/2″ and depth is 39 1/2.
Performance
When assembled easel is up to  89″ tall so it is suitable for standing or sitting painter. It can hold two surfaces at the same time so you can easily put your sample photo or a scetch on the top part of the easel. It can be tilted in many angles which allows you to use your easel for many different painting techniques. The tool tray is big enough for all the tools you might need while working like brushes and paint tubes.
It has rubber caps on the legs which prevent it from sliding. The Mont Marte tripod easel can support a canvas up to 52″ in height tho the canvas supports are not big enough to hold a canvas securely in place.
Even with the slightest push on the sides of the canvas, it tends to flip. This is something that can be very annoying to those painters that are a bit more energetic with brush strokes. There is no option to prevent this since not even tightening the canvas with the supports help. So I would not recommend you to use this easel with large panels or canvas.
It can be easily folded and moved out of the way when you are not using it. It is small enough when folded to store it under the bed or in the closet so it is ideal for those of you that do not have dedicated studio space.
One little remark is that it does not come with the instruction manual when you purchase it so you have to figure it out yourself what goes where based on the photos you see, tho it's not that hard. Also, the tool tray does not come with its own screws so you have to buy that additionally.
Price is more than acceptable for the quality you get which makes Mont Marte tripod easel a very good in budget easel. I would still not recommend it to serious artists since I find it is not sturdy enough.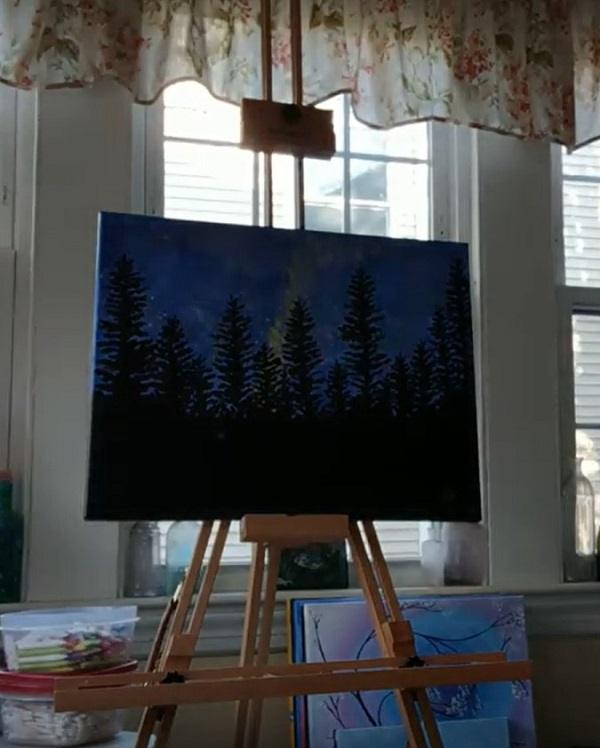 Pros
Mont Marte Tripod easel is hand made of quality light-weight beechwood
It can hold two canvases at once 
Has rubber caps on the legs to prevent the easel from sliding
Foldable to be easily stored in a small space area
The tool tray is big enough to hold all the tools you might need while painting
Very affordable Price
Cons
Canvas supports are not good enough to hold canvas securely in place
It does not come with instruction manuals
Tool try does not have screws so you have to additionally purchase some
Not sturdy enough for serious painters
Overall conclusion
Since it is lightweight and it is so easy to assemble and disassemble it Mont Marte tripod eases H.D. Beech is an ideal easel for students and those who need to carry it a lot to different places and events. Also, it can be a good easel for hobbyist and beginners that do not have a studio space and need it to be stored away after painting.
For the price you pay for the easel the quality is very good and with proper care, your easel will last you for many years. It has been built to support larger canvas or panels but it simply can not do that so I would not recommend it to any of you that are in abstract art or are simply a bit more energetic while painting. This easel is simply not sturdy enough.