Finding the right canvas to paint on can be as challenging as finding the right oil paints or brushes, since there are so many good manufacturers out there and so many good quality products on offer.
Old Holland is the oldest art supply company in the world. It was established in 1664. Old Holland canvas is produced from 100% Belgian linen, it performs great and has a reasonable price.
Two coats of gesso on your canvas will make your oils look vibrant and flow very well. This will make your artwork look so much better, and painting will be a delight.
Excelent quality for the price makes Old Holland canvas worth checking out for sure. In this detailed review we will tell you what to expect when purchasing Old Holland linen canvas.
Key Features
100% Belgian linen made from natural flax

Two coats of oil primer

13/16″ deep

Back stapled for frameless presentation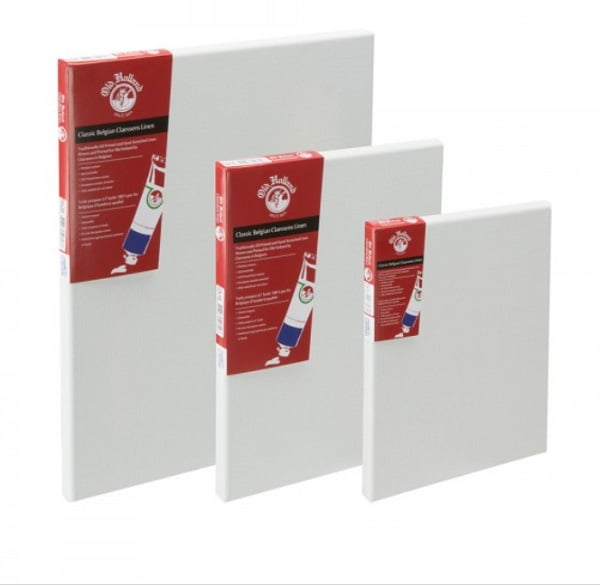 How To Choose The Right Canvas?
Depending on the amount of money that you are willing to spend and the technique that you are using while painting there a re a few choices you have when purchasing a canvas.
Two most commonly used canvas materials are cotton and linen. Keep in mind that canvas is the foundation of your painting the quality and texture of your canvas determines the quality of the end product.
We all want our work to last so you should always buy get the best canvas that you can afford.
Cotton canvas is very popular amongst students and beginners since it is much cheaper than linen and not that bad. It is naturally stretchy, so it is easy to prepare it for painting.
What is bad about the cotton canvas is that it is very absorbent, warps easily, and over time it might sag or hang loose.
Linen canvas is durable, not moisture absorbent like cotton, not as prone to sagging and wrapping, but it is expensive.
I do believe that it is worth the price tho since it has much better properties, gives you amazing texture for your artwork and it has been used by great masters for centuries which must be at least a little bit inspiring.
So if your budget allows it, I would always say go for the linen canvas.
Old Holland Linen Canvas
Old Holland canvases are made solely of Claessens Linen, crafted from woven natural flax from Belgium. The materials used for the production are grown, sorted, and processed with the greatest care.
The canvas is primed with two coats of oil primer and stretched around 13/16″ stretcher bars. It is stapled on the back so you can even pain on the sides in case you want to leave your painting without a frame.
Old Holland canvas is prepared with the techniques and methods form the time of old Flemish and Dutch Masters. 
First the canvas is double sized and then primed with Zinc White bound in linseed oil. The primer is added with a knife. Then the primed canvas is left to naturally dry for three days.
After the canvas is fully dry, it is sanded and a final coating based on Titanium White is applied with a knife and roller.
 If you prefer painting on rougher surface you can always ad a layer or two of gesso on your canvas that will give texture to your painting and also save you oil paint.
Old Holland linen canvas is suitable only for oil painting, so you have to keep that in mind when purchasing it.
Price of Old Holland linen canvas is high, but this is a premium quality product that is worth it. I would say that it is perfect for professional artists, though if your budget allows it I would always recommend that you purchase it even if you are a beginner. When it comes to canvas, you should always buy the best that you can afford.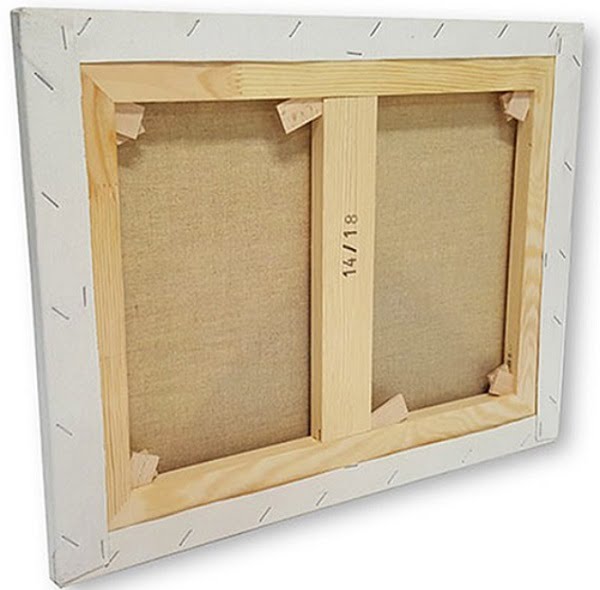 Conclusion
Old Holland linen canvas is the ideal surface for you to create your artwork on. It is perfectly stretched and prepared so your brush would effortlessly slide on it. 
When you purchase the Old Holland linen canvas, you can rest assured that you are getting a carefully made product of to quality. 
Each Old Holland canvas is tightly stretched to solid 13/16″ stretcher bars, and additional cross bar is added to larger sizes to prevent twisting or bending of your painting over time. 
It is stapled at the back so you can paint on the sides of the canvas in case you want to present your painting without a frame or in case you need to transport your painting you can just take it off the stretcher bars and stretch it again on a frame of appropriate size.
The linen used for Old Holland canvas is 100% Belgium linen that doesn't sag over time. It is double sized and double primed in order to provide you with a perfect surface for your artwork. It is expensive but it is worth it.
If you have any questions regarding the subject or need any help what so ever feel free to leave them in the comment section and I will be more than happy to help.