When you decide to start painting with oil colors it is very important to choose the ones that will suit your needs the best. It is also very difficult making that choice due to so many different brands on offer. Even experienced painters sometimes find it hard to decide which oil color is the best for them. Tho we all have our favourites many of us wander between several different brands in pursuit for that perfect one we will keep coming back too.
Old Holland Classic oil colors are one of the best I used but as I always say you won't know if any material suits you until you try it for yourself. All depends on the technique you're using and the effects you want to create while painting. These are definitely the colors with the longest tradition which says a lot about a manufacturer and the quality of the product itself.
The factory was founded in Holland in the early 17th century in 1644 to be precise and is the oldest oil color manufacturer in the world. They still use traditional methods in producing their colors under the supervision of artists. Only the best purest pigments are used in producing these and for the binder only the purest virgin cold-pressed sunbleached linseed oil.
In Old Holland colors there are no fillers used such as cheap chalk, aluminium hydrate powders, wax or barium sulphate. Colors have great covering power, strength and the superb intensity.
Tubes used for packing the colors are soft lead tubes with a thin layer of pewter, as opposed to an aluminium tube which oxidizes within 15 years lead tubes last a lifetime. Since the paint consists of pure pigments and oil unlike the industrially manufactured paints, it can not be placed into tubes mechanically because it is too sticky so that is done by hand, tube at the time.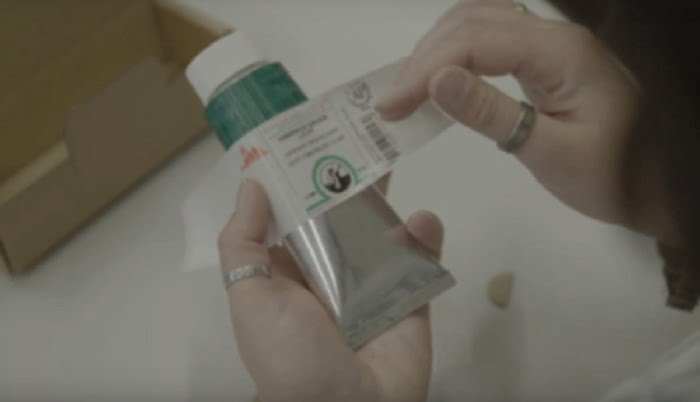 Appearance
Old Holland Classic oil colors are packed in lead tubes with a hand-painted color example on each tube. Under the color example on each tube, there is the name of the company and brand name followed by the corresponding color name and company logo.
Color examples on the tubes are an exact match to the colors you get when painting.Colors come in 18ml, 40ml, 60ml, 120ml and 125ml tubes. Sold open stock or in packs. I would recommend you to first purchase the smallest tube you can find since the colors are extremely expensive and would be really a waste of money if you end up not liking them .
There is a range of 168 colors of oil paints that was presented in 1985 after extensive research and improvement such as replacement of traditional non-lightfast pigments with modern lightfast pigments with the same colour characteristics as the traditional ones. 
Unprecedented colour strength comes thanks to the highest possible concentration of pigments in each color. Within the range of 168 colours, there are opaque and transparent colours, each with the highest possible brilliance and clarity. The only medium used for these oil paints is cold-pressed extra virgin linseed oil, to obtain an optimum drying of the paint which increases durability and brushstroke spread. All these characteristics result in oil paint of unequalled quality.
These are definitely one of the top artist grade oil colors. 
Performance
Pigments are as pure as it gets, the colors are nice and bright with excellent lightfastness. Paint is really thick and with the little amount due to the clarity of pigments and thickness of the paint you can cover a really large surface. This means that even tho they are pricey,  they are still worth it because they last longer than other cheaper colors depending on the technique you use of course. If you like adding heavy layers of paint on your paintings you might want to reconsider and buy more affordable oil colors.
Compared to other colors in the artist range you can say that these are not that different in quality for such a huge difference in price but then these are like prestige in the world of art, made for those who want to feel that "something more" while creating. These are the paints used by old Holland masters such as Rembrandt and Vermeer.
When it comes to the price I can say they are really expensive, maybe even too expensive but you should treat yourself with these at least once in your painting career just to feel what is it like painting with the same oil colours that helped create so many masterpieces.
Pros
Purest pigments
Best pigment saturation
Excellent lightfastness
A wide range of colors
Overall Opinion
All in all, this is one superb oil color. Top quality product made for those who want to take their art one step further and have that special something on their painting, that feeling of tradition and real masterpiece creation. These make you experience that feeling of artistic excellence when you use them.
I would not recommend them to beginners due to the price which is way to high but to all the rest of you, I would say go for it and purchase at least a few colors, treat yourself with the best because that's what these are one of the best in the world, from the design to the preparation of the color with utmost care every single detail made perfect with your satisfaction in mind.
 For those of you that do not feel comfortable spending the amount of money you would need to spend when buying these, I can recommend a few good alternatives in the same quality range such as Williamsburg Handmade oil paint, Rembrandt, Winsor and Newton Artists oil colours and Gamblin. All of the above are definitely worth trying.
This was my honest review on Old Holland Classic oil colors. If you have any questions regarding the subject and if I can help you in any way feel free to leave them below and I will be more than happy to answer them.