When you are a beginner artist it can be a very overwhelming experience purchasing any of the tools and materials you need in order to create. Choosing the right things for you is very important since none of the materials and tools are cheap.
This especially applies to easels which can cost you several hundreds of dollars so you have to be very careful in what you invest your money. US Art Supply is an American company that offers you good quality easels at an affordable price.
When you are purchasing an easel there are a few things you need to pay attention to. First, you need to decide what kind of easel you need since there are so many different types of easels.
Many companies manufacture easels that you can use for various painting techniques so my recommendation would be to purchase one of those easels that you can use for any technique from very liquid one like watercolours to oil paints.
The second very important thing you should pay attention to is the space since some of the easels are quite big, not that foldable and take a lot of the space in the studio or whatever space you decide to use for your work. 
Some easels stretch to be very tall so you should consider even that when you are purchasing an easel. If you have limited painting space or use a room that you share with the rest of your family you will need a nice small easel which you an move out of the way once you finish painting.
Very compact and practical easels for all of you that have limited workspace are tabletop easels. 
US Art Supply
US Art Supply is one of many brands owned by TCP Global Corporation. It imports low cost-high quality artist materials to the United States providing the artists with a wide variety of quality art supplies at a low price.
 US Art Supply 

Medium Tabletop Wooden H-Frame Studio Easel

This is a professional, medium size wooden tabletop easel. It can be used as a painting or a display easel. It is very sturdy and highly adjustable in an angle so it can be used for various painting techniques.

It can accommodate fairly large canvas and hold it securely so you can work without fear of it flipping or falling off.
Appearance
US Art Supply medium H-frame tabletop easel is made of solid, hand-sanded, aged beechwood that is grown in Germany.
Beechwood is, in general, the best choice of wood for the production of wooden easels because of its amazing properties. You will never have issues with your easel twisting or splintering since there are no soft and hard grains in a single piece of beechwood.
The easel is hand sanded and protected with an oil finish so it is easier to maintain it in perfect shape. When you get the easel some simple assembly is required because it comes assembled backwards so you have to disassemble and put it back together the right way.
This is not difficult tho and it will take you just a few minutes to do it so I do not see this as a big problem.
The base of the easel is square shaped and it has rubber feet for safe surface grip so your easel would not slide on the table while you are working.
Canvas holders are big enough to hold your canvas securely in place and the side screws and hinges can be tightened enough so you can adjust your painting surface in any angle you need to work without the fear of the easel folding to flat.
Once folded the easel is small enough to be easily stored out of the way like under the bed or in the closet.
Performance
US Art Supply Medium H-Frame tabletop easel can support a canvas up to 22″ in height. The top canvas holder is easy to remove so you can put a larger painting surface on it but it is too unstable so I wouldn't recommend that.
The dimensions of the easel are: 11″ wide by 12.5″ deep by 29.5″ high, easel adjusts up to 38.5″ in total maximum height.
It has metal knobs that make it easy for you to adjust the height and angle quickly and easily. This makes you easel usable for many painting techniques from oil painting to watercolor painting that requires a flat surface. 
You can also adjust your easel to hold the canvas or any surface you work on slightly past a full vertical incline which makes it suitable to do pastel work as well.
When folded the easel is small enough to be easily stored or carried so this makes it great for students or beginner artists that have no studio space and have to use shared rooms for their artwork. 
The price of the easel is very acceptable and the quality is great so this tabletop easel is really a bargain.
What is also great is that US Art Supply offers you a 100% Lifetime Satisfaction guarantee. This means that you can return your easel at any time if you are not satisfied with it and get your money back or exchange it for a different product. I am sure this will not be the case tho since this is a good quality product.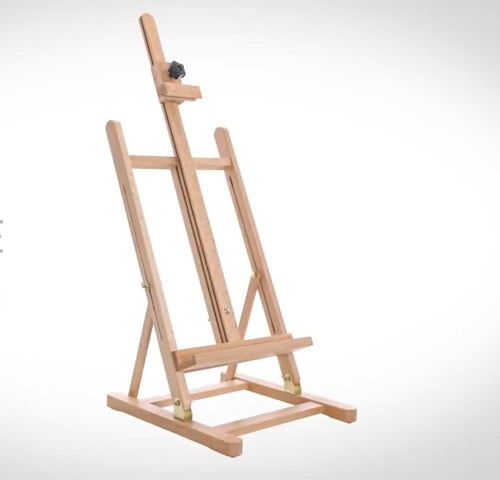 Conclusion
To summarize. US Art Supply Medium-sized H-Frame tabletop easel is made of solid top quality german beechwood. It is very versatile since it can be adjusted to hold your painting surface in any angle you might need.
It has rubber lags on the base to prevent sliding. Canvas holders are big enough and can be tightened enough to hold your painting surface secure while you are working.
Also, there are knobs that you can tighten when you put the easel at the desired angle that will keep it secure and stable.
Affordable price, portability and the ability to be folded flat and easily stored out of the way make US Art SUpply Medium H-Frame tabletop easel ideal for students and beginner painters but I am sure that its' quality would satisfy the needs of experienced artists as well.
If you have any questions regarding the subject or need any help, feel free to leave them in the comment section and I will be more than happy to answer.