Throughout the years the design of easels hasn't changed much. We still paint on the easels that are almost the same as ones used by true masters centuries ago, with minor improvements of course.
The traditional French style easel, the easel used for Plein air painting has been in use for over a hundred years. It can be really inspiring to tap into the romance of historical European master artist equipment and that's exactly what you get when you use US Art Supply easel, Coronado.
I found this easel very practical and useful with it's all in one storage drawer. It is not of the best quality but within its price range, something like that is to be expected.
Sometimes it happens that easels in a lower price range are built of low-quality wood that tends to snap or bend very easy. With Coronado that is not the case since it is built of beechwood which is the best choice of wood for artists easels. Beechwood is pretty consistent and you won't find soft and hard grains in the same piece so it won't splinter or twist in time.
The french style easels are constructed in a way to allow you to have your pallet at waist level and raise the surface you are painting on up higher. 
US Art Supply Coronado easel is better made than most in its price range and at an attractive enough price point which makes it a great choice for students and beginners.
Appearance
Constructed out of solid hand-sanded beechwood Coronado is a french style field easel with a very handy tool draw which can accommodate all the tools and paints you need while working.
The draw is very spacious and neatly divided so you have easy access to everything you need while out in the field. It is removable so it is easy to just take it out and clean it, also it can be partially pulled out to make a nice palette holder for you while working. The wooden palette 11″x18″ comes with the easel upon purchase.
It can be used as a tabletop easel or adjusted for a sitting or standing painter. When it is folded it can be carried as a suitcase has a neat, durable leather handle for it or put over your shoulder since it has a strap for it as well. Also, it has brass hooks that help you carry your wet painting.
When folded it is small enough to store in your closet. The dimensions of the easel when folded are 17″ X 6 1/2″ X 22″. Still, it is large enough when unfolded to carry a canvas or a panel up to 34″. Unfolded dimensions of Coronado easel are 28 1/2 " X 45″ X 71″.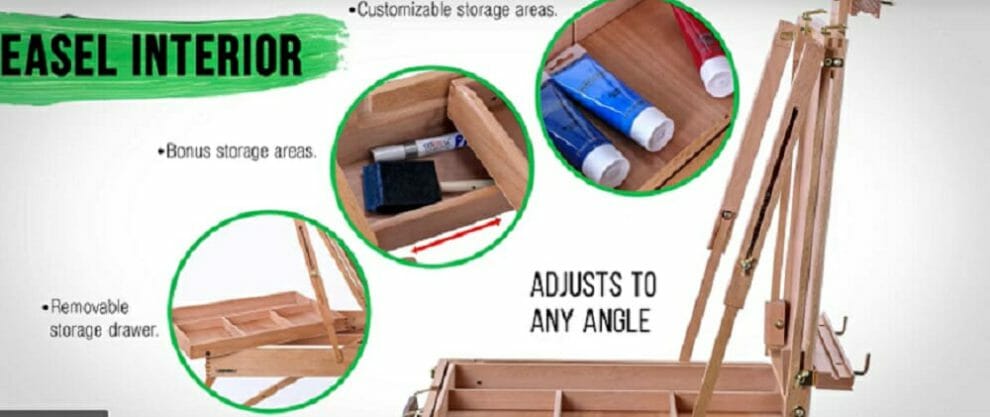 Performance
When it comes to the performance of US Art Supply Coronado field easel there are two things I want to point out, the weight of the easel and the setup. First of all, you better make sure to park your car very near to the place you plan to set up everything on since you won't be able to carry the easel to any distances.
So definitely not suitable for hiking to nay remote areas for painting since it is to heavy to carry even if you use that handy strap for over the shoulder. The weight of the easel is 14.7 pounds and I am talking just the easel without all the rest of the things you need like, canvas or panel, paints, brushes, turps…
Also, there is a tricky part of setting it up once you finally managed to get to the desired painting spot so be prepared to take your time with it ( not really recommended for the impatient ones ).
But let's look at it from the bright side! If you are athletic enough to carry it to the desired spot and patient enough to set it up you got yourself a pretty nice working area with a big drawer for everything to be at hand and place to put your palette on.
The wood used for manufacturing it is not of that good quality making the easel itself not durable enough so do not count on it lasting you for many years. The price, on the other hand, is more than acceptable considering the quality so it all evens out in the end.
Overall Opinion
To summarize Coronado is  French box field easel. Made of hand-sanded beechwood. It is budget-priced. Can be used as a tabletop as well as an easel for sitting or standing painter. Has a handle to be carried like a suitcase and a strap so you can carry it over your shoulder.
It is small enough to be neatly stored out of sight in your closet or under the bed whichever you prefer. But it is still big enough when unfolded to carry a canvas or a panel up to 34″ in height. It has a really nicely made tool draw for all you might need during painting out in the field.
Downsides are that is too heavy, too complicated to set up and not durable enough. So my opinion is that it is good enough for beginners and students but definitely not something I would recommend to serious artists or ones of you that are on their path of becoming one. I can just say it is great for its price.
If you are more interested in buying something that will last you a lifetime and can afford to pay a bit extra I can recommend you Mabef portable field easels which are of outstanding quality but come with a higher price.
Specifications
Weight of Coronado field easel is approximately 14.7 pounds
When fully extended easel is up to 71″ tall
It can accommodate a canvas up to 34″ in height
When folded the dimensions are  17″ X 6 1/2″ X 22″