In order to paint with ease, each painter needs a lot of different tools and materials. One of the very important tools for a painter are easels. Easels come in many different shapes and sizes and everyone can easily find what suits him the best.
If you are a painter with limited workspace or a student that lives in a shared room what would be the best for you is a table top easel. Table top easels are compact and easy to store and are great for saving space and still, they are very functional.
We decided to review a very good table top easel for you and that is Best deluxe Table Top easel from Jack Richeson.
Jack Richeson & Co.
Jack Richeson & Co.is a family-owned company founded the 1980s' in America. Not only that this company is in the production of the finest artist materials and tools they are also a part of an amazing art gallery and art school.
All their products are carefully designed and produced to satisfy the needs of even the most demanding artists.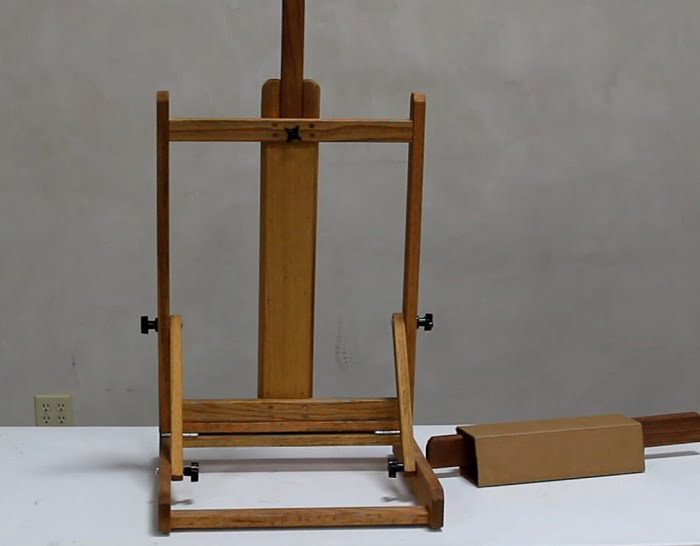 Best Deluxe Table Top Easel
Best Deluxe table top easel is a heavy-duty table easel hand made and hand finished from selected red oak. It is very sturdy and stable built in the form of an H-frame easel.
This easel is foldable so it can be easily stored away. It is ideal for painters with smaller workspaces as well as for students.
It can be tilted to several different angles which makes it suitable for several different drawing and painting techniques.
All moving parts have knobs so everything can be secured in place easily. There is a detachable canvas holders which you place on the mast.
The bottom holder is large and helps to keep your painting surface safely in place without any risk of moving.
Best deluxe table easel can accommodate painting surface up to 36″ in height. The base of the easel is 18″ x 18″ and when fully extended the easel is 47″ high.
Upon purchase, it comes to you fully assembled apart from the canvas holder which you need to place on the mast. I am sure you won't find this hard.
This easel is a bit pricey but for a higher price, you get premium quality and design.
When you start using Best Deluxe table easel first thing you will notice is its amazing design and stability.
Also, all adjustments of the angle or height can be done with such ease so nothing interrupts your creative process.
Best Deluxe easel can be tilted from 0 to 85 degrees so it is suitable for any painting technique. It holds your painting surface secure with no risk of flipping or falling off.
It is a bit heavy for a table easel since it is made of oak wood but look at it from the bright side its weight gives it additional stability which is very important since it mounts fairly large painting surface.
Pros
Handcrafted out of top quality selected red oak.
Very stable and sturdy Best Deluxe table top easel can accommodate painting surface up to 36″ high.
Folds flat for easy storage.
Ships to you almost fully assembled which saves you time.
Various tilting angles from 0 to 85 degrees which allows you to paint in many different techniques.
Conclusion
Best Deluxe table top easel looks like a little work of art itself. It is handcrafted out of premium red oak.
It is very simple to assemble and very simple to use. Large 18″ x 18″ base gives you great stability and security while you are working.
This is a large table easel that can accommodate and safely hold large painting surfaces. Best deluxe table easel folds flat so you can store it away easily.
It is a bit pricey for a table easel but it is of great quality and amazing design so it is really worth the cost.
If you are not ready to spend as much there are a few good easels that I can recommend you as an alternative.
Mabef Table Top Easel M/31
Mabef table easel M/31 is a top quality product with a lifetime guarantee. It is made of top quality beechwood with an oil finish for protection from staining.
Beechwood that is used for its production is sturdy but still very lightweight. M/31 is small and easy to store away which makes it a great space saver.
It can accommodate fairly large painting surface and its movable mast gives you the ability to lower your painting surface under the table level which is a feature many painters like a lot.
The size of a canvas or a panel it holds goes up to 39 3/8″. M/31 table easel can be tilted in many angles which makes it great for many different drawing and painting techniques.
The price is a bit high for a table top easel but it is cheaper than Best Deluxe table easel and it is in the same quality range.
Renoir Table Easel
Renoir table top easel is an amazing piece of equipment for any painter with limited space. It is made of refined beechwood.
The base of this easel is actually a metal-coated toolbox. The box is nice and spacious with adjustable metal parts so you can set it as you need to put your tools inside.
A big box that is the base of easel does add a bit to the overall weight but it also gives the easel better stability.
It has two mobile canvas holders and bottom canvas holder can be lowered under the table surface. Also, it can be tilted to any angle from 0 to 90 degrees which makes it suitable for any painting or drawing technique.
The price is lower than the previous two easels and the quality is almost as good so if you are on a limited budget this might be a right easel for you.
If you have any questions about the subject or need any help with it I will be more than happy to answer and help in any way I can. You can just leave them in the comment section or contact us and we will get back to you in no time.