Graphite pencils are a very important part of any creative process. Even though it might seem to many that all graphite pencils are the same and that there is no difference between expensive ones and the ordinary graphite pencils that are not expensive at all they are wrong.
Artists graphite pencils are the best graphite pencils for drawing since they offer you so much better performance and durability than ordinary graphite pencils. So how to know which pencils to purchase? What should you look for?
There are a few brands in this particular industry that are in the production of top quality graphite pencils for centuries actually so it is not that hard finding a suitable graphite pencil for you.
But before I tell you something about those that I think are the leaders I want you to know a few things that are very important when choosing a graphite pencil for your artwork.
First of all, you have to look at the quality of lead that is the most important part. If the mixture of graphite and binder is not good enough pencil can not perform well.
The lead should be buttery smooth and yet strong enough so it doesn't break. if the lead is not pure enough the trace it leaves on the paper will be uneven and some scratching may occur.
Also, if the lead is not break resistant you will end up sharpening your pencil to oblivion, tips will break so say goodbye to that nice detailed work you need on some of your drawings.
The second thing you should look into is the barrel of the pencil. The barrel needs to be of a nice shape and appropriate dimensions and of course, it needs to be made of top quality wood tightly encased around the lead.
If the material used for the production of the barrel is not of good quality you will have so many issues when you are trying to sharpen your pencils since it may splinter and flake.
If the lead is not secure in the barrel it will move and break and that is something you do not want as well. This being said lets' move onto the brands of graphite pencils that are considered leaders in their category and also which I can recommend you for your drawing.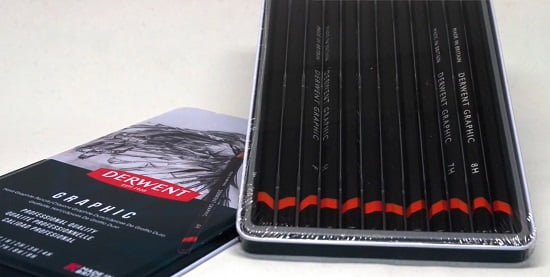 Derwent Graphite Pencils Graphic
When it comes to pencils Derwent is my absolute favourite. Whether we are talking about color pencils or graphite pencils I feel confident that Derwent will never fail me. This is a British company with experience and tradition in pencil production.
They provide you with tools of top quality manufactured with you in mind. Sturdy, long lasting and reliable. Derwent graphite pencils are suitable for beginners as well as for professional artists.
Appearance And Performance
The shape of the barrel of Derwent Graphic graphite pencils is hexagonal, made of cedarwood.  Its coated in black paint with silver letters on it stating the country of origin, brand name and the grade of the pencil. Graphic pencils can be bought separately or in several different sets.  
The lead goes from 2.2mm in the hard ( H ) degrees to 3.5mm in the softer B degrees.  It is very resistant and pencils can be sharpened to a very thin point and they can hold that point well even when pressure is applied while drawing. This makes them ideal for detailed work. 
Once you start drawing you will notice that they are leaving a smooth and even trace. Even very hard pencils like 9H  don't scratch the surface of the paper when you used them. Blending is excellent and they are easy to erase.
All in all these pencils are suitable for everyone from beginners to professional artist. They sharpen well since top quality wood is used for the barely. They don't break because of special technology used to strengthen the lead so they are ideal to be used for sketches and full drawings as well.
Price of Derwent graphite pencils Graphic is very reasonable for the quality you get so all I can say is that you will not make a mistake if you decide to invest in one of their amazing sets.
Caran D'Ache Graftwood Graphite Pencils
Caran D'Aches is a world-renowned company founded 100 years ago in Switzerland. In that long period of their existence, they brought pencil manufacturing to perfection.
Their Graftwood graphite pencils have excellent swiss quality and precision and can satisfy the needs of even most demanding artists.
Appearance And Performance
Grafwood graphite pencils are professional drawing graphite pencils. You can purchase them in two sets one of 6 pencils of different hardness and one of 15 pencils of different hardness.
They also have a very neat pack of graphite pencils in different grades and it's a box of 15 Hardness degrees graphite line in which you can find Grafwood pencils along with Technalo graphite pencils sharpeners, sanding paper eraser… You can buy pencils individually as well in case you need to replace only a few of them.
All sets of graphite pencils are in protective metal tins. The barrel of Graftwood graphite pencils is made of premium cedarwood. The shape of the barrel is hexagonal which I know many artists prefer since it more pleasant to hold and it doesn't roll off the table as easy as the ones that are round.
The diameter of the barrel is 8mm and the graphite goes from 2,1 to 3,6mm. The grade range is from 4H up to 9B. What I find very useful about these pencils is that the barrel is varnished differently on pencils of different grades 4h being the lightest grey almost white and 9B being the darkest.
This makes it easier for you when you are using the pencils since all you have to do is look at the barrel to choose the hardness of the pencil you will use next. No need to search for a certain number since you can just choose the hardness of the lead by glancing at the color of the barrel.
Pencils are labelled though and on each pencil, there is a brand name, manufacturer, country of origin and a lead grade imprinted in nice silver letters which makes it easy for you when replacing just certain pencils you used up.
What might be inconvenient for you is the fact that the barrel is a bit wider so you have to find a sharpener then will not feel tight while you are sharpening the pencils. The pencils are still quite nice to hold, no discomfort there.
The barrel and the lead are of the great quality so once you find the appropriate pencil sharpener it is very easy sharpening the pencils to a very fine tip.
As for performance, these are excellent. The lead is smooth and buttery and leaves a nice even trace on the paper there are no issues like scratching the paper even in their hardest grades such as 4H.
The pencils blend very well on the paper either you are using paper blending stump for blending or a tissue paper graphite moves amazingly well also it is easy erasing them without any staining.
The price of Caran D'Ache pencils might come off as somewhat high but they are worth every penny. Graftwood graphite pencils are sold individually and you do not have to buy a set just choose a few and try them out. I assure you, you will enjoy using them and you will not be disappointed since this is a top quality product.
Faber Castell
 9000 Graphite Drawing Pencil
Yet another great brand of graphite pencils coming from another manufacturer with long tradition and experience. Faber Castell products are made with top quality materials and are great for writing, drawing and sketching. 
There are many good artist graphite pencils at Faber Castell but the ones that drew my attention are for sure 9000 drawing pencils.
What's interesting about these pencils is that these are one of the oldest pencils in Faber Castell. They started manufacturing them back in 1905. and been perfecting them ever since.
Faber castell 9000 graphite drawing pencils come in many different sets but you can also purchase them individually in case you just want to try them out or you need to replace the one you used up.
Appearance And Performance
Castel 9000 drawing pencils are hexagonal which is something I know many artists prefer when it comes to pencils. They come in 16 grades of hardness and can be purchased individually or in various sets.
Color of the barrel is dark green with writing on three sides of the pencil. On one side there is the brand name, name of the company and grade of the lead printed in silver letters.
The lead of Faber Castell graphite pencils Castell 9000 is made of finely ground graphite and a clay binder. Lead is smooth and buttery and never scratches the paper even when the hardest grades are used such as 6H.
Special SV (secure all) bonding process is used in the production of the lead in order to make it break-resistant and it really works! They hold the tip well even when pressure is applied which makes them perfect for detailed work.
  Castell 9000 drawing pencils come in grades from 6H up to 8B. While drawing, pencils have that smooth buttery feeling even with the hardest grades like 4H. There is no scratching at all with the hardest pencils. Castell 9000 pencils erase well without any smearing or staining. 
The quality of the pencils is consistent which shows that this is a top quality product and a lot of attention is given to quality control. 
The price is very reasonable considering the quality these pencils give you. In the end, it is up to you to decide but my advice would definitely be, get a few and try them out.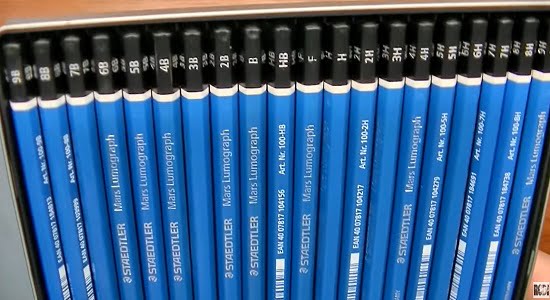 Staedtler 
Mars Lumograph Graphite Pencils
Staedtler is a German company with a long tradition and experience in the manufacturing of graphite pencils. Founded in 1853. by Johann Sebastian Staedtler. In just a few years Staedtler became a name very well known and respected worldwide.
Staedtler Mars Lumograph graphite pencils are professional grade pencils. Designed for everyone from beginners to professional artists Mars Lumograph pencils offer you good quality.
Appearance And Performance
You can purchase Mars Lumograph pencils in grades from 12B up to 10H. The barrel of the pencils is made of top quality German cedar wood. It is of hexagonal shape with smooth edges which makes these pencils very pleasant to use.
Varnish on the barrel is blue with the black bottom part where the grade is imprinted in white markings. On the pencil, there is a name of the country of origin followed by the brand name.
The pencils can be easily sharpened to a very fine tip and the lead is extremely break resistant even when pressure is applied while drawing which makes Mars Lumograph pencils ideal for detailed work as well for shading and cowering large surfaces.
There is a vast choice of grades of Mars Lumograph pencils and the thing is that many of the pencils appear to be very similar when you use them so I would suggest that you purchase for example only even numbers and skip the ones in between unless you are planning to buy one of the many sets they offer in which case you can not avoid having similar pencils of different grades.
Leads in softer grades leave a nice and buttery trace while harder grades sometimes happen to have a small issue.
The thing is that harder grades are so pale that you need to apply a lot of pressure to be able to see anything so you end up scratching the paper to get any trace which can be very annoying.
This has nothing to do with the lead binder mixture since its pretty pure just with the fact that they are so pale which makes scratching unavoidable.
That is not the biggest flaw of these pencils tho. They do not blend well and do not erase well. Even the harder grades, that are as I said very pale, can not be erased completely. Both blending and erasing are very important when you are drawing so I see these two things as a very big flaw.
The pencils are very affordable and there is a great variety of hardness grades which makes these pencils attractive for students but in my opinion, they are not good enough for serious artists.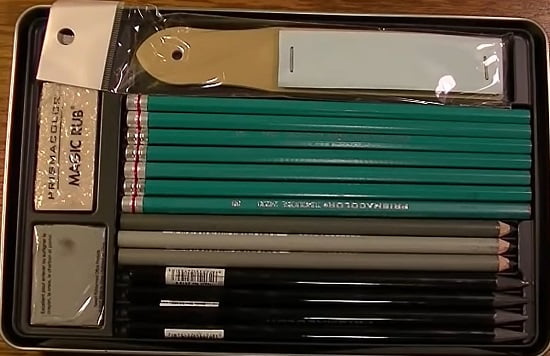 Prismacolor
Prismacolor is a company with a long tradition and experience in creating professional art tools. It was founded back in 1856. since then the company went through several changes and perfected pencil manufacturing. 
I put these pencils in the last place since I do not consider them as good as the rest I wrote about but still think they deserve to be reviewed and have something to offer to students and hobbyist.
As always with any other pencil brand, you can purchase the pencils individually or in various sets. The set I found worth mentioning is their 18 piece set which is very neat for students since it contains all you might need while drawing.
Prismacolor Premier Graphite Drawing Pencil Set
Premier Graphite drawing pencil set is an 18 piece set in a tin box. What you get in this set are Premier graphite drawing pencils Turquise graphite, Premier Woodless graphite pencils, Premier water-soluble graphite pencils, two erasers, a sharpener and a  sanding board.
Professionally Graded Graphite Pencils
Graphite pencils come in different grades, with leads ranging from hard, thin, and light grey to soft, thick, and black. The pencils in this set come in a variety of grades and create rich, velvety smooth laydown in a range of textures from very hard (light) to extremely soft (dark).
Turquoise Drawing Pencils
The seven Turquoise graphite drawing pencils in this set have grades of 6H, 4H, 2H, B, 2B, 6B, and 8B. The 6H and 4H pencils are suitable for drawing light, detailed lines, while 6B and 8B are great for rich, dark coverage.
Woodless Graphite Pencils
Woodless Graphite Pencils in this set come in grades of 2B, 4B, 6B, and 8B. They can give you various results depending on how you use them. If you use them on their side they will give you broad smooth strokes and you can also sharpen them and use for fine details.
Water-Soluble Graphite Pencils
The last type of graphite pencils you can find in this set are water-soluble graphite pencils which are graded HB, 4B, and 8B. These give you rich, dark marks that can be diluted with water so you can create a transparent wash.
Top-quality Graphite For Best Performance
Graphite used in the production of Prismacolor professional line of graphite pencils is of premium quality. You can sharpen your pencils to a very thin point without any fear of them breaking or crumbling.
Two Erasers for Correcting Mistakes
In this set, you will also find two erasers to help you correct your mistakes one is kneaded eraser which you can mould into a fine tip to correct the smallest mistakes without disrupting the surrounding area. The other eraser is Prismacolor Premier Magic Rub Vinyl Eraser, which can remove graphite gently without smudging or ripping the paper.
Performance
Overall performance of Prismacolor graphite pencils is good, would not say excellent but still good. Graphite is pure and smooth. Blends quite well. Even the hardest of pencils graded H do not scratch the paper while your drawing.
You can sharpen your pencils to a very thin point without any breakage or crumbling to work on fine precise details on your drawings.
However, there is a minor flaw I stumbled upon when it comes to turquoise graphite pencils and that is they seem to be not labelled appropriately. Better to say they are not graded well.
In H pencils it can happen that the ones that are supposed to be lighter are actually darker. For example, 6H tends to be darker than 4H which can really be annoying if you are purchasing based on the grades ( which you are supposed to do anyway ). In my opinion, this shows very poor quality control on their end since I am sure this is a problem that could easily be avoided.
As I said at the beginning this is a good introductory set for students and beginners but that is all I do not see Prismacolor graphite pencils as pencils suitable for serious artists.
The price is very affordable to match the quality you get from Prismacolor Premier graphite drawing pencils. If you are planning to do full drawings I would not recommend you these at all but if you are just going to use them for light sketches and if you are a student or a beginner go for it.
Conclusion
I made this list according to my preference placing the one I favour the most as the first review and so on. In the end, it all comes down to you and your style.
Some pencils will suit you more than others the same goes for all artist materials you will not know what is the best for you until you try it all I can do to help you is to point out the good and the bad in the materials I review. 
Some of you will go by the budget some by the quality they expect of certain products. Whatever you decide always make sure to experiment do not exclude one product just based on the price. Many times I found that cheaper products work better for my style of drawing and painting than more expensive ones.
If you have any questions regarding the subject feel free to leave them in the comment section and I will be more than happy to help in any way I can.