Graphite pencils are an amazing drawing tool that helps you creating purest shapes and forms. They are made of graphite core embedded in a casing which is usually made of wood but can also be made of plastic and recycled paper. One of good quality graphite pencils you might want to consider are Staedtler Mars Lumograpf Pencils.
When you are buying graphite pencils there are a few things you should pay attention to in case you are planning to use them for your artwork. First and most important is the quality of the lead second is the casing in which the lead is embedded.
Top quality pencils have a lead made of quality graphite mixed with binders such as clay or wax. The mixture is so finely done that you never have issues with lead scratching the paper even in the hardest grade.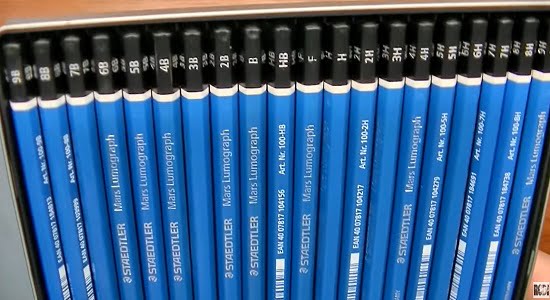 Staedtler
Staedtler is a German company with a long tradition and experience in the manufacturing of graphite pencils. Founded in 1853. by a man who was pursuing his dream Johann Sebastian Staedtler just a few years after Staedtler became a name very well known and respected worldwide.
Mars Lumograph Graphite Pencils
Staedtler Mars Lumograph graphite pencils are professional grade pencils. Designed for everyone from beginners to professional artists Mars Lumograph pencils offer you the supreme quality and are great to use for drawing, sketching, shading…
The pencil comes in a wide variety of grades from 12B up to 10H. The barrel is made of top quality German cedar wood. The shape of the barrel is hexagonal with smooth edges. varnish on the barrel is blue with the black bottom part where the grade is imprinted in white markings. Along the pencil, there is silver writing of the country of origin followed by the brand name.
Leads are break resistant and won't break even when pressure is applied while drawing which makes Mars Lumograph pencils ideal for detailed work as well for shading and cowering large surfaces.
This also means that the lead won't break or crumble when you are sharpening your pencils and they will last you much longer than ordinary graphite pencils.
You can purchase the pencils in various sets as well as individually in case you need to replace just a particular pencil. What I want to point out is that since there is such a vast choice of grades many pencils appear to be very similar so my suggestion would be to purchase for example just even numbers and skip the ones in between unless you are going for a set in which case you cant avoid it.
Leads leave a nice and buttery trace in softer grades while harder grades sometimes happen to have a small issue. The thing is that harder grades are so pale that you need to apply a lot of pressure to be able to see anything so you end up scratching the paper to get any trace.
This has nothing to do with the lead binder mixture since its pretty pure just with the fact that they are so pale which makes scratching unavoidable. So again, my suggestion would be to simply skip those hardest grades unless as I said you are purchasing the full set.
The biggest set they sell is one of 24 different grades ranging from super soft and dark 12B to hard and pale 10H. The set comes in a tin box to protect the pencils and make it easier for you to transport them in case you like sketching outdoors. The box the pencils come in is hinged so each pencil has its own place which adds to the security and prevents your pencils to move around in the box.
Pencils are not blending well and also are hard to erase. Even the harder grades like 10H still, can't be erased completely. Both of the things are essential while making complete graphite drawings so I see these as a very big flaw.
Price is more than acceptable tho for a durable sturdy graphite pencil so that can make these attractive for art students along with a great variety of hardness grades. 
Overall Opinion
Overall these are solid graphite pencils that can be purchased at a very affordable price and I am sure they would be good enough to satisfy the needs of students and amateurs but I can't see them fulfilling the expectations of professional artists.
I do realise that the price can be a deciding factor for many and if you plan to use them just for sketches and studies go for it, but if you plan on drawing full drawings I would recommend a few alternatives that are not very expensive and behave far better when you use them.
One of my favourites are Derwent Graphic graphite pencils but what can also come as a good alternative is Caran D'Ache with their Grafwood graphite pencils.
Alternatives
Derwent Graphic Graphite Pencils
I absolutely adore Derwent. The feel their pencils give you when using them is incredible. Everything is done with such ease. They just glide on the paper and lead your hand to create. That smooth buttery feeling is present in their coloured pencils as well.
Derwent graphite pencils Graphic come in a hexagonal barrel made of cedar wood. The core spans from 2.2mm in the hard ( H ) degrees to 3.5mm in the softer B degrees.
You can purchase the pencils in various sets as well as individually. There is a 24 set of pencils in a tin that contains the pencils from 9H to 9B along with HB. Also, you can purchase tin sets of 12 soft, medium or hard pencils. pencils as well as blister and a set in a tin box that contains 6 pencils.
The lead is very resistant and can be sharpened to a very thin point without fear of breaking even when a bit of pressure is applied while drawing. When drawing you will notice that each pencil leaves a smooth even trace. Even with very hard pencils like 9H, there is no visible scratching of the paper.
Graphic pencils are easy to lift from the paper with almost no staining left and also they are highly lightfast.
Pencils blend well and leave a long trace when you try to smudge them. Since they can be sharpened to a very fine tip you can use them for detailed work with no problems. If their very soft 9B still is not dark enough for you they have soft onyx very dark pencils that are darker.
 Caran D'Ache Grafwood Graphite Pencils
The diameter of the barrel is 8mm and the graphite goes from 2,1 to 3,6mm. The grade range is from 4H up to 9B. What is a very neat feature of these pencils is that the barrel is varnished differently on pencils of different grades 4h being the lightest grey almost white and 9B being the darkest.
This feature makes it easier for you using the pencils since all you have to do is look at the barrel to choose the hardness of the pencil you will use next.
On each pencil, there is a brand name, manufacturer, country of origin and a lead grade imprinted in nice silver letters which makes it easy for you when replacing just certain pencils you used up. On the opposite side though there is a black barcode along the pencil which I must admit gives the pencils cheap look.
Since the barrel is a bit wider than those you usually get you might experience some difficulties with sharpeners, some might feel a bit tight.
The barrel is produced of top quality wood so it's very easy sharpening the pencils to a very fine tip, also the lead is of great quality so it will not break.
When it comes to performance these are excellent. Top quality lead is smooth and lays nicely on the paper even in the hardest grades as 4H.
Lead is very pure and there isn't scratching on the surface of the paper while you are working which can often happen when you are using cheaper brands of graphite pencils.
The pencils blend very well on the paper either you are using paper blending stump for blending or a tissue paper graphite moves amazingly well.
It is easy removing the graphite off the paper using an eraser without any staining and smudging. 
Conclusion
As I have already said the Mars Lumograp Pencils are solid graphite pencils which I would recommend to students. They are affordable and excellent for the price. If you have any questions related to this subject feel free to leave them in the comment section and I will be more than happy to answer them.