When it comes to all art materials and tools there is a wast choice of it on the market and it is so difficult and very confusing at times choosing what you really need, what you will use and what will give you the best results. Even the tiniest things as erasers can be distracting and annoying if they are not of good quality and if something annoys you the painting or drawing process s ruined. I am sure you already know how it goes.
Soft drawing pencils are a crucial part in creating art from making sketches to complete works of art there is so much you can achieve using just a pencil. One of the pencil brands I would recommend you is Derwent. Derwent graphite pencils offer you all you need whether you are a beginner or an experienced artist.
For generations, artists around the world have trusted the Derwent brand. With a proud heritage dating back to 1832, Derwent's innovation comes from a deep understanding of artists.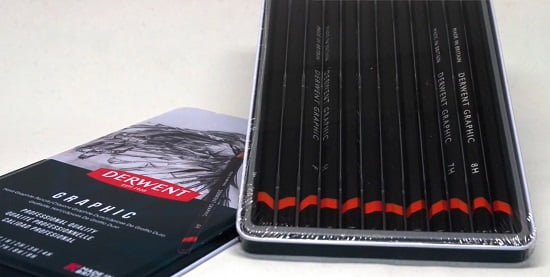 Derwent
Derwent is a British company that is founded way back in 1832. The company produces a wide range of art materials from colouring pencils to the highest professional quality products of which most are made in their British manufacturing plant in the Lake District, Cumbria, UK.
Over generations, Derwent company perfected the manufacturing of pencils in the Lake District. They have a wide range of pencils of top quality. 
Derwent Graphic Pencils
When you are buying graphite pencils there are two important things you should look for. You should make sure that the lead is strong enough and that it is not moving in the casing. If the lead is not secured and tight in the casing it will break a lot. Not only that this is very irritating when you are drawing it also means that you will have to sharpen the pencil a lot and use it up in a very short period of time.
Sometimes is much better paying a little bit extra for a top-quality product since you will end up using it much longer than a cheap one which you will most likely waste in efforts to sharpen it without braking. So, in the end, the pencil you paid less will be much more expensive since it will last a lot shorter than the expensive one.
The second thing you should pay attention to is the binder used in the production of the lead. Leads should be very well mixed with the binder and the trace should be smooth, even for the harder pencils like H pencils the lead should never scratch the paper.
It can often happen that cheaper pencils stop making a mark on the paper since the binder is not well mixed with the graphite.
Derwent graphite pencils Graphic are a professional quality product created with you in mind. Attention was paid to the smallest of details.
Appearance And Performance
Derwent graphite pencils Graphic come in a hexagonal barrel made of cedar wood. The core spans from 2.2mm in the hard ( H ) degrees to 3.5mm in the softer B degrees.
You can purchase the pencils in various sets as well as individually. There is a 24 set of pencils in a tin that contains the pencils from 9H to 9B along with HB. Also, you can purchase tin sets of 12 soft, medium or hard pencils. pencils as well as blister and a set in tin box that contains 6 pencils.
Barrel of the pencil is hexagonal which is great since you do not have to worry that your pencil will roll off the table and also it is nicer to grip it. It is black with silver letters on it stating made in Britain, the name of the company and the marking for the specific degree of the lead.
The lead is very resistant and can be sharpened to a very thin point without fear of breaking even when a bit of pressure is applied while drawing. When drawing you will notice that each pencil leaves a smooth even trace. Even with very hard pencils like 9H, there is no visible scratching of the paper.
Graphic pencils are easy to lift from the paper with almost no staining left and also they are highly lightfast.
Pencils blend well and leave a long trace when you try to smudge them. Since they can be sharpened to a very fine tip you can use them for detailed work with no problems. If their very soft 9B still is not dark enough for you they have soft onyx very dark pencils that are darker.
All sets in metal tins have typical Derwent markings on them such as British flag and a unique drawing made with the very same pencils and all the degrees of pencils that you can find in the box are printed on the bottom of it.
Price of the pencils is very reasonable for the quality you get since this is a top quality product created to satisfy the needs of most demanding artists.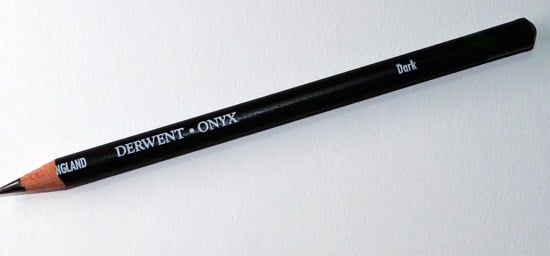 Overall Opinion
With Derwent, you can not make a mistake especially when it comes to pencils. They offer top quality products carefully designed to suit the needs even of the most demanding artists. In their pencils, you can see that typical British durability, sturdiness and quality. They deliver products that are made to last.
Derwent graphite pencils Graphic are of superb quality, they are designed so they fit the hand very well. The lead is soft and yet very strong perfectly blended so there is no scratching or any other inconvenience while you are working.
Wide range of shades they offer can satisfy anyone's needs whether they are beginners or experienced artist. Price is a bit high when you think those are just graphite pencils but then they last much longer than the cheaper ones which actually in the end ads up to the same price for much bigger value.
If you have any questions regarding the subject feel free to leave them in the comment section below and I will be more than happy to help you.