A good graphite pencil is an essential tool in any creative process. It is simply inevitable in the creative process. So, the same way as you carefully pick any other artist tool you should take time to choose a good quality pencil for you.
There are many good quality artist pencils on the market and ones I can recommend you are Faber Castell graphite pencils.
Faber Castell is originally a German company that over time expanded its business and opened factories in ten countries across the world. 
Long tradition and german precision in manufacturing made their products stand out and become well known worldwide. They offer an array of artist products as well as products for beginners.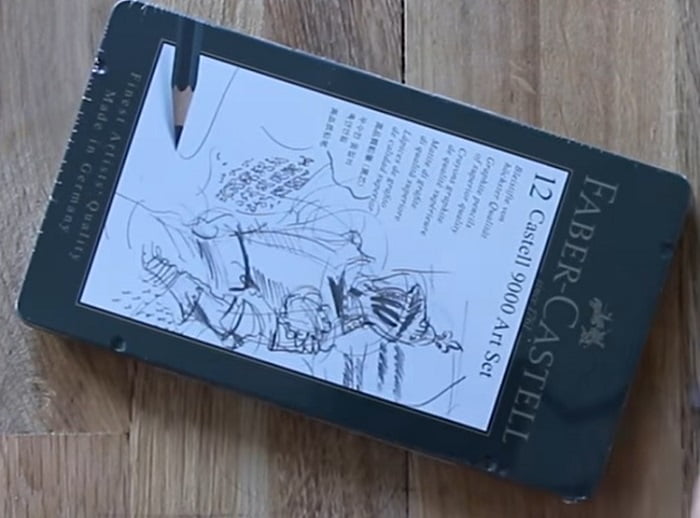 Faber Castell Graphite Pencils
Faber Castell graphite pencils are made with top quality materials and are great for writing, drawing and sketching. Leads in their artist graphite pencils are made of finely ground graphite mixed with a clay binder.
Leads in Faber Castell pencils are break resistant, smooth and non scratching. The pencils come in many practical sets as well as individually so it is easy for you to replace the desired pencil at any time.
Castell 9000 Graphite Drawing Pencil
What is interesting about Castel 9000 graphite pencils is that they are one of the oldest pencils in Faber Castell. They were first manufactured in 1905. and they have been improving ever since.
Castel 9000 drawing pencils come in 16 grades of hardness and they are sold individually or in assorted sets.
Pencils are hexagonal and very pleasant to hold. Varnish on the barrel is dark green with writing on three sides of the pencil. Along one side there is the brand name, name of the company and grade of the lead printed in silver letters.
The lead of Faber Castell graphite pencils Castell 9000 is made of finely ground graphite and clay. Quality of the lead is excellent and very consistent. Lead is smooth and never scratches the paper even when the hardest grades are used such as 6H.
Special SV (secure all) bonding process is used in the production of the leads in order to make them break-resistant and it really works! You can sharpen your pencils to a very fine tip and the lead will not break even when pressure is applied which makes them perfect for detailed work.
  Castell 9000 drawing pencils come in grades from 6H up to 8B. One of the nice sets that Castell 900 pencils can be purchased in is their set of 12 pencils. They come in a wide range of grades which is more than enough for sketching and drawing whether you are a beginner or a professional artist.
Pencils are packed in a metal box which is light and convenient to carry with you for sketching outdoors. The grades of pencils you get in this set are 8B, 7B, 6B, 5B, 4B, 3B, 2B, B, HB, F, H and 2H. Pencil marked 8B is the softest and the darkest and 2H is the lightest and hard but still not too hard to scratch the paper while you are drawing.
While drawing, pencils have that smooth buttery feeling even with the hardest grades like 4H. They are great for shading as well as for detailed work since the tip does not break even when significant pressure is applied to the paper. They erase very well without smearing or smudging.
The quality of the pencils is consistent which shows that a lot of attention is given to quality control. This is really a top quality graphite pencil and you can not go wrong if you decide to purchase this particular brand for your artwork.
The price is very reasonable considering the quality. I do understand some of you might think that it is just a graphite pencil and there is no difference between this particular pencil and a regular cheap one when it comes to sketching and drawing but believe me, there is a lot of difference and once you try using and professional grade graphite pencil you will realise that.
The biggest difference is of course in the quality of the lead which is the most important aspect of any graphite pencil. Cheaper pencils have a bad mixture of binder and graphite and usually, they tend to scratch the paper especially in harder grades like H.
Also, the lead in cheaper pencils is very often very breakable and they don't hold the tip that well so you have to sharpen them more often than professional grade graphite pencils so, in the end, they last a lot shorter which mostly balances the cost vs duration with professional grade pencils.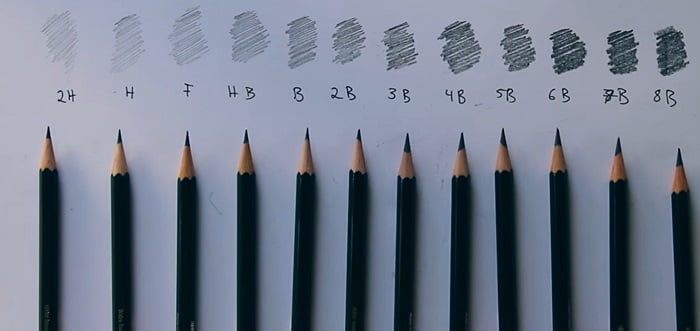 Alternatives
If for some reason you are not satisfied with Faber Castell drawing graphite pencils ( tho I see no reason why you could be unsatisfied ) there are a few other brands you should take into consideration that are also amazing and of excellent quality and in similar price range as Castell 9000 and those are Derwent graphite pencils Graphic, Prismacolor graphite pencils and Caran D'Ache graphite pencils Graftwood.
Derwent graphite pencils are British made top quality pencils with exquisite performance. Barrels of the pencils are also hexagonal with the lead that spans from  2.2mm in the hard ( H ) degrees to 3.5mm in the softer B degrees.
They can be purchased in many different sets as well as individually.  The trace that pencils leave when drawing is very smooth and even. Even with the hardest grades like 9H, there is no scratching of the paper. They blend well, they are extremely lightfast and erasing them is easy with almost no visible trace left on the paper.
The price is a bit higher but the quality is unparalleled so they are worth it.
Prismacolor graphite pencils are artist graphite pencils of decent quality. I can not say that they are superb but for the price,  the quality is more than satisfiable.
Overall performance of Prismacolor graphite pencils is good, would not say excellent but still good. Graphite is pure and smooth. Blends quite well. Even the hardest of pencils graded H do not scratch the paper while your drawing.
You can sharpen your pencils to a very thin point without any breakage or crumbling to work on fine precise details on your drawings.
However, there is a minor flaw when it comes to turquoise graphite pencils and that is they seem to be labelled wrong. Better to say they are not graded well.
In H pencils it can happen that the ones that are supposed to be lighter are actually darker. For example, 6H tends to be darker than 4H which can really be annoying if you are purchasing based on the grades ( which you are supposed to do anyway ).
The price is low so these are definitely in budget pencils of decent quality and unless you are one of the artists who prefer creating full drawings using just graphite pencils this will be just fine for you. For anything more serious I would not recommend these.
Caran D'Ache are yet another top quality graphite pencils. Smooth and buttery lead is placed in a premium cedar wood barrel.
The diameter of the barrel is 8mm and the graphite goes from 2,1 to 3,6mm. The grade range is from 4H up to 9B. What is a very neat feature of these pencils is that the barrel is varnished differently on pencils of different grades 4h being the lightest grey almost white and 9B being the darkest.
This feature makes it easier for you using the pencils since all you have to do is look at the barrel to choose the hardness of the pencil you will use next.
Since the barrel is a bit wider than those you usually get you might experience some difficulties with sharpeners, some might feel a bit tight.
When it comes to performance these are excellent. Top quality lead is smooth and lays nicely on the paper even in the hardest grades as 4H there is no scratching.
Overall Opinion
All in all Faber Castells' graphite pencils are an excellent tool made of top quality materials with the artist in mind. Perfected over years by supervision of artists. Faber Castell graphite pencils are an amazing product of unparalleled quality and performance.
These pencils are suitable for beginners as well as for the professional artist. The lead leaves a nice buttery trace and still is extremely break resistant. There is no smearing or smudging. They sharpen very well and hold the tip for a long time. If you haven't tried them yet my recommendation would be do so. Start with just a few pencils of different grades I am sure you will not be disappointed.
If you have any questions regarding the subject leave them in the comment section and I will be more than happy to answer.