Drawing is one of the oldest and most effective ways of visual expression. Very often drawing is the base of painting but also can be considered a complete work of art. To create good quality drawings that last you need to use good quality tools-graphite pencils. One of the leaders on the market is Prismacolor Graphite pencils.
With such a vast choice nowadays it is very difficult finding just what you need and will enjoy using.  There are many great tools on offer and for a beginner, it can be very easy making the wrong choice. What you should know when purchasing a graphite pencil is what qualities to look for.
First thing you should pay attention to is the lead that needs to be finely mixed with binders so it goes smoothly on the paper without scratching it also you want it to be break-resistant since it is pointless buying a pencil you cant sharpen because it keeps breaking also you have to make sure that the barrel that the lead is in is of good quality wood and the lead is laying tightly in it.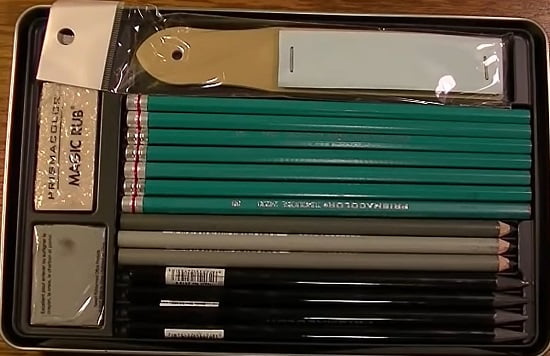 Prismacolor
Prismacolor is a company with a long tradition and experience in creating professional art tools. The company was founded back in 1856. since then went through several changes and perfected pencil manufacturing. What they offer are pencils of great quality and amazing performance.
You can purchase graphite pencils individually or in a few neat sets. One I especially like is their 18piece set that contains several different graphite pencils erasers and sharpeners. I think it is great for beginners and art students since it contains all the tools you might need.
Prismacolor Premier Graphite Drawing Pencil Set
Premier Graphite drawing pencil set is an 18 piece set nicely packed in a tin box. What you get in this set are Premier graphite drawing pencils Turquise graphite, Premier Woodless graphite pencils, Premier water-soluble graphite pencils, two erasers, a sharpener and a  sanding board.
This set is suitable for beginners as well as for experienced artists. In it, you have all the tools you might need while drawing.
Create technical or fine art drawings with the 18-piece Prismacolor Premier Graphite Drawing Pencil Set. Suitable for beginning and experienced artists, this set of graphite pencils includes Premier Turquoise Graphite Pencils for drawing and shading, Premier Woodless Graphite Pencils for coverage, and Premier Water-Soluble Graphite Pencils for flowing textures. The set comes with two erasers, a steel pencil sharpener, and a sanding board.
Professionally Graded Graphite Pencils
Graphite pencils come in different grades, with leads ranging from hard, thin, and light grey to soft, thick, and black. The pencils in this set come in a variety of grades and create rich, velvety smooth laydown in a range of textures from very hard (light) to extremely soft (dark).
Turquoise Drawing Pencils
The seven Turquoise graphite drawing pencils in this set have grades of 6H, 4H, 2H, B, 2B, 6B, and 8B. The 6H and 4H pencils are suitable for drawing light, detailed lines, while 6B and 8B are great for rich, dark coverage.
Woodless Graphite Pencils
Woodless Graphite Pencils in this set come in grades of 2B, 4B, 6B, and 8B. They can give you various results depending on how you use them. If you use them on their side they will give you broad smooth strokes and you can also sharpen them and use for fine details.
Water-Soluble Graphite Pencils
The last type of graphite pencils you can find in this set are water-soluble graphite pencils which are graded HB, 4B, and 8B. These give you rich, dark marks that can be diluted with water so you can create a transparent wash.
Top-quality Graphite For Best Performance
Graphite used in the production of Prismacolor professional line of graphite pencils is of premium quality. You can sharpen your pencils to a very thin point without any fear of them breaking or crumbling.
Two Erasers for Correcting Mistakes
In this set, you will also find two erasers to help you correct your mistakes one is kneaded eraser which you can mould into a fine tip to correct the smallest mistakes without disrupting the surrounding area. The other eraser is Prismacolor Premier Magic Rub Vinyl Eraser, which can remove graphite gently without smudging or ripping the paper.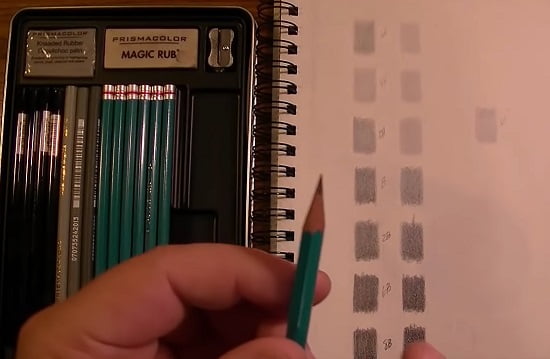 Performance
Overall performance of Prismacolor graphite pencils is good, would not say excellent but still good. Graphite is pure and smooth. Blends quite well. Even the hardest of pencils graded H do not scratch the paper while your drawing.
You can sharpen your pencils to a very thin point without any breakage or crumbling to work on fine precise details on your drawings.
However, there is a minor flaw I stumbled upon when it comes to turquoise graphite pencils and that is they seem to be not labelled appropriately. Better to say they are not graded well.
In H pencils it can happen that the ones that are supposed to be lighter are actually darker. For example, 6H tends to be darker than 4H which can really be annoying if you are purchasing based on the grades ( which you are supposed to do anyway ).
All of the pencils that you get in this set you can purchase individually as well in case you need to replace any of them.
This is a good introductory set for beginners and students I would not say it is a set that would satisfy the needs of professional artists though. 
The price is low so these are definitely in budget pencils of decent quality and unless you are one of the artists who prefer creating full drawings using just graphite pencils this will be just fine for you. For anything more serious I would not recommend these.
If you have any questions regarding the subject I will be more than happy to answer them if you were to just leave them below in the comment section.